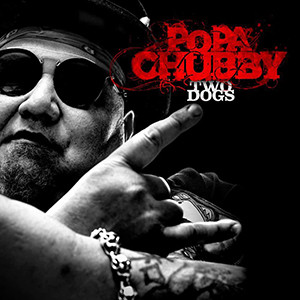 Great blues is about commitment and intensity. The best blues and blues rock artists all share a sincerity and honesty that transcends musical ability. It's not the notes that are being played or sung that make these artists feel bluesy to the listener. Rather, it's the candidness behind the notes that registers as the real deal.
Popa Chubby occasionally veers into those kinds of pure moments on Two Dogs, the singer/guitarist's latest album. Interestingly, these moments occur during the two live covers that close it. "Sympathy for the Devil" is a study in contrasts, Chubby's restrained vocals pulling the beat back while his guitar pushes it forward. The conflict creates a tension that surpasses the original studio recording, with Chubby unlocking a bluesiness the Stones were unable to bake into what is still, to be fair, one of their great tracks. Chubby's only misstep is a piano solo that takes much of the energy out of the song.
Chubby also shares both rawness and intimacy on his cover of Leonard Cohen's "Hallelujah." Chubby attacks the song with his voice, an uncharacteristically clean guitar sound, and some gentle backing vocals. Eventually, some piano trickles in to lift the song and unlike "Sympathy," this time the piano gives the song a new level of complexity. Chubby has a solid, bluesy voice, but what's striking is the sincerity. Listening to him sing "Hallelujah," the listener gets to hear a sweet, genuine moment – even with a seemingly drunken crowd captured on the track. Is the honesty heard the result of a live performance? Or of interpreting someone else's material, rather than performing his own? It's hard to know.
The album has some other nice moments. "Rescue Me" has a fantastic pop chorus that would instantly improve any Shania Twain album. "Dirty Old Blues" has a great groove and a down-home slide riff. But the rest of the album, which features Chubby's own songwriting, struggles to create similar moments.
Two Dogs has lots of great guitar sounds and some very nice solos. There's no denying his talent as a guitarist. With more time to develop his songwriting and lyrical skills, he'll become an even more compelling and exciting performer. Chubby is capable of delivering wonderful emotion, both with his voice and guitar. The challenge is getting all of that onto the album.