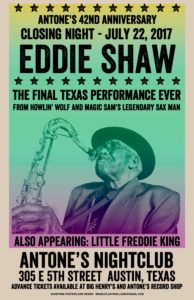 If blues fans loved the sax the way they do guitar, Eddie Shaw would have been as famous as Muddy Waters or Buddy Guy. He passed this week less than two months short of his 81st birthday.
"I could start workin' with B. B. tomorrow if I want to [be] making more money than I'm making now and less work," he told me in 2008. "I ain't got to drive my truck. I ain't got to worry about getting to the gig, getting an itinerary. Be your own Mastercard with the name of the company on it. Punch it in, catch a plane, go anywhere you want to go, and they pay the bill. But I don't wanna do that. I do what I wanna do."
What he wanted to do was front his own band which he did from 1976 almost until he passed. Occasionally, he would sit in with George Thorogood, but he always came back to his band Wolfgang with his son Vaan Shaw on guitar and Shorty Gilbert on drums. "There ain't no bad nights with George. Know what I'm saying," Thorogood told me 2010. "Eddie Shaw will do anything for me 'cause we did a few gigs together.' It really was kinda like a Jim/Huck Fynn relationship. I was Huck Fynn. He was Jim. I'm an orphan wandering in a world of blues."
He started his career at 14 playing for Ike Turner on recordings made in Clarksdale at the WROX studios. "Ike Turner was the guy. He was the undercover guy, sixteen years old bringing Howlin' Wolf to Sun Records, or bringing Roy Brown, Carl Perkins, "Blue Suede Shoes" guy. All of this was Ike's doing, but all you hear about Ike is that he beat Tina's ass. But they don't never tell you how great the man was. He never wanted to be this front man in the band, but he was always the boss."
He toured the south in a brand new Cadillac with Muddy Waters in 1959 and '60.
"Muddy always treated me right, man. I rode with him in the car when other boys couldn't ride with him. I knew all the maps. I could read the map of the highways and byways to gig to the gig. 'Now you don't ride with the boys in the band. You ride with me.' Muddy's in the back seat. I'm in the front. Bo's driving. I have the map."
I toured with Muddy in Mississippi. He came through for about ten or fifteen days in the south and I went on ten to fifteen days. After that ten or fifteen days was up, I'm back in Greenville. So, on the last day, he said, 'If you ever want or need a job, if you wanna work, here's my number. Give me a call in Chicago. You wanna go now?' No, I don't wanna go now," but he gave me a free invitation.
He was Howlin' Wolf's band leader from 1972 until his death in '76. "He was a strong entertainer, and sometime when he be on that (dialysis) machine on a Friday and gotta work Friday night he would be really sloppy and going to work he'd be weak, and then I'd have to sing two or three tunes, and we would play two or three instrumentals. Andrew McMahon do two or three, so we'd kind of …I had it set up so on those days we could kill most of the time, got everything rolling, let him come on, do maybe three or four tunes and I'd get him down. Sometimes, he'd say, 'Hey, man, don't get me down. I'm just gettin' started. I'm gonna do another one.' 'No! You come down now!' "You can't tell me what to do.' 'No, you can't do it, Wolf. Bring your ass on down!'"
Dick Waterman: "There was really no wasted time. Eddie was really very, very good at giving you a good show, and then you sort of never felt that this was a weakened debilitated Wolf coming on stage because Eddie was so aggressive and positive in front of the stage and commanding that, in other words, it was like he always made sure that his part of the show ended on a really good point for Wolf to take over. Eddie always held the audience at a high point, made it easier for Wolf."
Eddie "reversed it to himself" after Wolf died says Bobby Rush.
Eddie made many recordings with The Wolfgang, and they played everywhere from little clubs to big festivals. But he never forgot where he came from, the cotton fields of Greenville, Mississippi.
"I always wanted the mule boy job 'cause I didn't want to pick cotton, man. When you in the cotton field picking cotton, you got twenty, maybe thirty people got rows down there picking cotton, and they got a sack which is about nine feet long, okay? Now, in the sack some people can put 150 lbs. into that sack, and if you're way down in that field, there's no way you can bring it back to the scale. So, there was a time the mule boy was the guy that you would raise your hand a quarter mile down in the field and he would see it on the end. He knows you got a sack of cotton, and you'd come up with the mule, throw the sack across the mule and tie it up at the top so the cotton can't come out, throw it up on the mule and bring it to the end to the scale."
One of my fondest memories was dancing with Eddie and Vaan on stage at Takin' It to The Streets Music festival in Schenectady, New York in the early '90s. I miss him already.
*Main image ©Laura Carbone