Blues fan looking for the perfect Music or Blues Festival in sunny California? The pros at ABS have made you this Top Five blues festival guide to discover California Blues Festivals with the best live music lineups, vendors, arts, food, and attractions.
Mammoth Festival of Beers & Bluesapalooza
August, Mammoth Lakes, California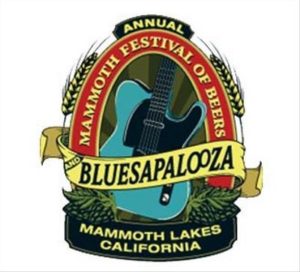 There is something incredible brewing in the mountains of Mammoth Lakes, California… If you like the outdoors, mountains, beer, and the blues, this is your festival!
Mammoth Festival of Beers & Bluesapalooza is set in the High Sierra Mountains, below Yosemite National Forest in California. Mammoth is held in a beautiful resort called The Woods at Mammoth Lakes, nestled into the pines at 8,000 feet up. They say the trip to Mammoth is part of the experience, and with miles of unbridled natural beauty, you'll quickly see why.
This is where you can find the very best musicians in today's contemporary blues scene. 2017's Bluesapalooza brought Vintage Trouble, Mavis Staples, Walter Trout, Robert Randolph, Janiva Magness, Samantha Fish, and many more.
One unique attraction: Discover beer from over 200 of the best craft breweries, and even get a Beer Taste pass for grand tasting events over the weekend!
2-4 day tickets are available starting at around $140, VIP ticketing is available, and children 10 and under get in free. There's a wide variety of food vendors, and you can even bring your own food (but not alcohol). Don't miss out on a long list of unique and fun vendors as well.
There's RV parking (partial hookups) and tent camping nearby. Hotels are available a short drive in to Mammoth, and a shuttle is available to and from the festival grounds. Some flights into Mammoth are available.
Mammoth Festival of Beers & Bluesapalooza
Doheny Blues Festival
May, Dana Point, California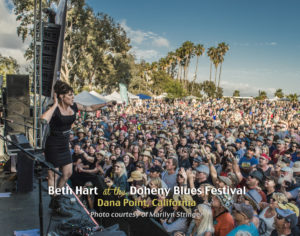 Now 20 years strong, the weekend Doheny Blues Festival continues to rock Dana Point, California with sunny days and a huge lineup of blues. Located an hour from downtown L.A. on the Coastal Highway, Doheny is just a sea-breeze away from the ocean. The blues festival offers three stages, including a more intimate Back Porch stage.
Among a huge list of past performers are The Black Crowes, Mavis Staples, Bobby Rush, Beth Hart, North Mississippi Allstars, Gregg Allman, Gov't Mule, Keb' Mo, Buddy Guy, Joe Bonamassa, and so very, very many more. If you're in the mood for great music, look no further!
Find fun art, gifts, merch, and more at dozens of festival vendors. There's a wide variety of food options, from BBQ to vegetarian.
General admission starts at $110 + early bird discounts. Two levels of VIP ticketing are available. For the amount and quality of performers, ticket prices are very reasonable. Parking is plentiful and shuttles will be available.
There's no shortage of absolutely beautiful hotel options very close to the festival, including the beachfront Ritz Carlton resort, Laguna Cliffs, and Monarch Beach Resort.
Simi Valley Cajun and Blues Music Festival
Memorial Day Weekend, May, Simi Valley, California
Craving all things Cajun? Like your blues hot? Simi Valley Cajun and Blues Music Festival is your event!
One unique thing about Simi is it's longstanding habit of transplanting the Louisiana bayou almost 2,000 miles towards the Pacific Ocean. There's all the authentic Zydeco and Cajun music you can shake a crawdad tail at, a Mardi Gras parade, and loads of traditional cajun food available (among other vendor options). Also enjoy all manner of carnival-style eats like kettle corn and funnel cakes.
2-day pass tickets are $45-$200. Reasonably priced hotels are plentiful in the area, and there is (limited) parking available. You're free to bring coolers and tents, but not alcohol.
Also, what you spend at this festival goes to an excellent cause. Simi Valley Cajun & Blues Music Festival is non-for-profit, having donated well north of $1,000,000 to charities. The festival even makes its list of charitable beneficiaries public.
Simi Valley Cajun and Blues Music Festival
Russian River Jazz & Blues Festival
June and September, Guerneville, California

Don't be confused by the dates. The Russian River Jazz & Blues Festival is actually three festivals this year! All held on the banks of the Russian River in Northern Cali, June 9th celebrates the 100th Anniversary of Johnson's Beach with the Blues Festival taking place the next day. On September 8th and 9th, their Jazz Festival expands to two full days.

There have been music festivals on this spot for over 40 years. Artists from Al Green to Al Jarreau, and from the Neville Brothers to the Doobie Brothers have all played here.
This festival is in Guerneville, which offers fine hotel and resort accommodations. The Jazz & Blues Festivals themselves offer a wine garden, vendor village, camping, and lots of water activities to enhance the musical experience.
What could be better than the best in blues and jazz among California's majestic redwoods?
Russian River Jazz & Blues Festival
San Diego Blues Festival
September, San Diego, California
The San Diego Blues Festival began in 2011 with two goals in mind. Bring great, live blues music to the city, and feed the hungry of San Diego County. Between their sponsors and festival goers, they've done both.
Artists including Nikki Hill, Elvin Bishop, Los Lobos, Joe Louis Walker and Mavis Staples have graced the festival stage.
In their first four years alone, they donated 12 tons of food and more than $585,000 to help the Jacobs & Cushman San Diego Food Bank fight hunger in San Diego County. Talk about the blues giving back!
The venue is near perfect. Embarcadero Marina Park North is located on the downtown San Diego waterfront. Music begins before the gates even open, with local artists performing outside the front gate. For an even more special experience, VIP and Super-VIP tickets are available.
Due to its location the San Diego Blues Festival is close to all the accommodations, beaches, and amusements the "Finest City in America" has to offer.