Blues fan looking for the perfect Music or Blues Festival in Missouri? The pros at ABS have made you this Top Five blues festival guide to discover Missouri Blues Festivals with the best live music lineups, vendors, arts, food, and attractions.
Roots n Blues n BBQ
September, Columbia, Missouri
If there's ever a best music festival list, Roots n Blues n BBQ needs to top it. Why? The art, the setting, the culture, so many top-notch food trucks you just can't get through them all, and the best part: big, fat, unbeatable lineups. Every time you think Roots n Blues n BBQ can't outdo itself, it does.
Set 2 hours from St Louis, 2 hours from Kansas City in the college town of Columbia, Missouri, Roots n Blues takes place in scenic Stephen's Lake Park. While the walk between the two large stages is short, the festival footprint is wide and roomy.
Spanning a rolling hillside filled with vibrant, colorful paint and light art everywhere, the festival also sports a ferris wheel, art booths, plenty of bathrooms, and so much excellent food truck dining.
This is a destination festival. You'll desire to spend your whole weekend lounging on the grass to this diverse roots soundtrack. Baseline weekend tickets are around $150 (kids 12 and under get in free), and with the powerhouse lineup, this ticket price is continually one of, if not the best value in live music today.
A few of the many, many past performers include Grace Potter, Pinetop Perkins, Dan Tyminski, Toots and the Mayalls, Tedeschi Trucks, Nathaniel Ratliffe, Gary Clark Jr, Taj Mahal, Buddy Guy, Ana Popovic, Avett Brothers, Booker T, Pokey LaFarge, John Prine, Samantha Fish, Budos Band, Emmylou Harris… the list goes on.
There's plenty of hotel accommodations nearby, including in the beautiful and lively downtown Columbia, "The District", located within walking distance, or by a shuttle to the festival provided free by Roots n Blues. Don't miss Rose Music Hall downtown, which hosts official RnB afterparties for those who love the night life. Other close attractions include Flat Branch Brewery, Renaissance Vinyl, and the famous Blue Note.
Discover three gloriously music-filled days of perfect weather, amazing BBQ, beautiful art, and the best music lineup in the country at Roots n Blues n BBQ.
Big Muddy Blues Festival
Early September, St. Louis, Missouri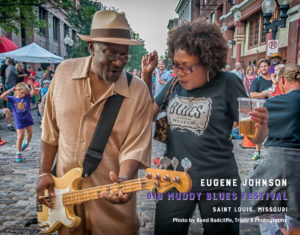 Right on the Mississippi River in downtown Saint Louis, the Big Muddy Blues Festival takes place on the busy cobblestone streets of Laclede's Landing — the oldest area in the storied river city.
Every Labor Day Weekend for over 20 years, the FREE Big Muddy brings three outdoor stages and dozens of bands and musicians. Along with national and international headliners are some of the best locally-based bands STL has to offer, including Big George Brock and rising star Marquise Knox.
Not only will you get the very best of the blues, but within the festival footprint, Laclede is rich with attractions, bars, clubs, restaurants, a brewery, and a nearby casino. There are plentiful walking-distance hotels. There's also much to do in Downtown Saint Louis, including Busch Stadium, go up into The Arch, and visit the unbelievably unique City Museum that you just have to see to believe. Whatever you do, do not miss the the National Blues Museum on nearby Washington Ave!
Music lovers may want to take a short drive to visit the Delmar Loop with famed venue/restaurant Blueberry Hill, the Chuck Berry statue, and Vintage Vinyl.
Visit Big Muddy Blues Festival to get some of the best blues Missouri has to offer.
Stomp the Blues out of Homelessness
May, Springfield, Missouri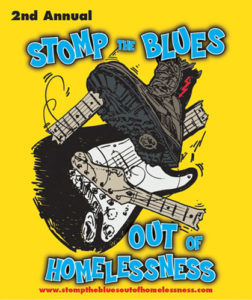 One of the greatest things about this mighty mid-sized music festival in Springfield, Missouri is that the entire Stomp the Blues Festival benefits the area's homeless.
You won't see a huge lineup at Stomp — but who needs that when you always book bands this darn good? Alumni include Marcus King Band, Tommy Castro, Cassie Taylor, John Lee Hooker Jr, and many more.
This town of 200,000 has several hotel and camping accommodations that are reasonably close.
Tickets are very reasonable — and did we mention every dime goes to helping area hungry and homeless? VIP tickets, which include some alcohol, are available. There are food, alcohol, and merch vendors as well. Check out Stomp the Blues' official website.
Ozark Cigar Box Guitar Music Festival
August, Benton, Missouri, USA
Why didn't someone make a festival like this earlier!? This brand new festival celebrates Cigar Box Guitars in one of the most authentic CBG areas in the country — the Missouri Ozarks.
Set in the small town of Warsaw, Missouri, which is in the hilly western Lake of the Ozarks area, the Ozark Cigar Box Guitar Music Festival has an Amphitheater stage and smaller tent stages that allows talented Cigar Box Guitar players to wow the festival goers with more slide guitar skill than you can shake a broomstick at.
FREE as it gets, this festival has vendors, booths, food and of course, live music that largely celebrates one of those bluesiest of instruments: the Cigar Box Guitar.
MerleJam
Early May, Kansas City, Missouri, USA
One reason we love the Kansas City MerleJam annual festival is because it's also a fundraiser for area heart transplant recipients — it's founder being one himself.
Great causes are always a strong reason to rock out, and the best place in Kansas City to rock out has to be the famous, raucous blues joint Knucklehead's Saloon, which features an indoor stage, outdoor stage, and a small, intimate chapel stage.
Last year had Danielle Nicole of Trampled Under Foot, Chubby Carrier, Amanda Fish, Kris Lager, Outlaw Jim and Whiskey Benders and more.
There are not hotels within walking distance, but Knucklehead's has a free shuttle. Other things music lovers in Kansas City can't miss are the American Jazz Museum at 18th & Vine and the exceptional BB's Lawnside BBQ — one of the bluesiest places you'll ever see.
Visit MerleJam's official website and get ready to see how Kansas City does the blues.