Blues fan looking for the perfect Music or Blues Festival in Mississippi? The pros at ABS have made you this Top Five blues festival guide to discover Mississippi Blues Festivals with the best live music lineups, vendors, arts, food, and attractions.
Juke Joint Festival
April, Clarksdale, Mississippi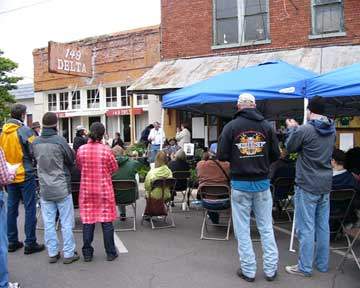 The unofficial kickoff to Festival season happens where American Music first exploded: Clarksdale, Mississippi. Former home to Muddy Waters, John Lee Hooker, Sam Cooke, Ike Turner and many more, the Juke Joint Festival celebrates America's musical beginnings on front porches and in old juke houses, the way it used to be.
No joke! The festival stages are front porches, and juke joints like Red's Juke and Ground Zero Blues Club, and the artists are a mix of bluesy greats and hidden gold. Either way, you'll hear some of the greatest and most unique music that's ever crossed your ears.
Among many, many blues attractions in the area, be sure to visit Cathead Delta Blues and Folk Art Gallery, located right on Delta Ave — behind one of those front porch stages! There are a number of hotel (and fun micro-hotel) accommodations in the area, but don't wait to book — they fill up fast for this festival. If you're into Micro-hotels, check out Hooker Hotel.
Other things that make Juke Joint Festival great is the FREE ticket price, and that this festival is uniquely like a county fair — with food, art and merch vendors and (a perpetual hit) monkeys riding dogs herding sheep.
Juke Joint Festival Official Website
Mighty Mississippi Music Festival
September, Greenville, Mississippi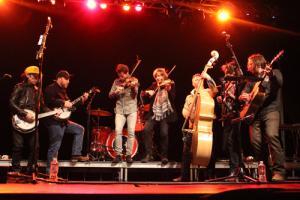 Four years ago, we called Mighty Mississippi Music Festival the #1 new festival for the same reasons this blues fest tops our list today: Mississippi music, great food, a beautiful park setting with camping, and a wholly unique style.
Taking place in Greenville, Mississippi (home of the late T-Model Ford), Mighty Mississippi is set just feet from the Mississippi River.
The weekend-long event at Warfield Point Park (About 3 minutes from town) has two stages: the Highway 61 blues stage and the main stage. Both have almost nonstop music that you don't want to miss. Alumni include Old Crow Medicine Show, Dr John, Band of Heathens, Gov't Mule, and more authentic bluesmen than you can shake a stick at.
Limited on-site camping + RV camping at the festival grounds are both available. Hotels are a car ride away in Greenville. We recommend the beautiful Greenville Inn and Suites on Walnut Street. Outside of the Mighty MS, don't miss Walnut Street Blues Bar and the nearby one-in-a-million Doe's Eat Place.
VIP tents with rustic seating and plenty of booze, stages flanked by tractors, BBQ and merch Vendors, and a big screen playing the Ole Miss game… this is likely the most Mississippi festival ever.
Mighty Mississippi Music Festival Official Website
Jackson Rhythm and Blues Festival
August, Jackson, Mississippi
In Downtown Jackson, Mississippi is a powerfully authentic music festival that combines the best of southern music. With five stages, this new Mississippi music festival came in with a bang and refuses to quit!
Because Jackson Rhythm and Blues Festival truly understands how much music the area inspired, you won't just see the blues here — but there's a whole lot of that. Find acts like Jarekus Singleton and Bobby Rush beside stars like Ludacris and Fantasia, plus southern soul legends, DJs, rappers, and more.
There's many hotels and accommodations close to the Jackson Convention Center where the festival is held. Food, drink and night life are all downtown, and be sure to visit F. Jones Corner on the historic Farrish Street for a healthy dose of authentic blues music atmosphere.
Jackson Rhythm and Blues Festival
Sunflower River Blues & Gospel Festival
August, Clarksdale, Mississippi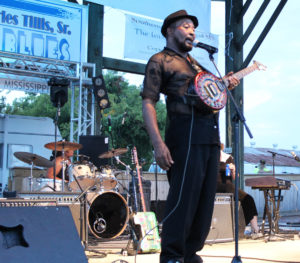 For 30 years and counting, the Sunflower River Blues and Gospel Festival has been rocking and rolling downtown Clarksdale, Mississippi. Name the bluesman and he's probably been here: Recent performers include Big George Brock, Charlie Musselwhite, Super Chikan, North Mississippi Allstars and even Robert Plant's Band of Joy.
This blues festival is set in the heart of downtown Clarksdale, so visitors can enjoy the Delta Blues Museum, area Juke Joints, many of which have official festival stages, and VIP tickets for those interested.
There are area hotels and stays, but hotels fill up fast for festivals in Clarksdale, so book early! Clarksdale is the home of the blues, so for a blues fan, the attractions in this town are a dream come true.
Sunflower River Blues & Gospel Festival
Bentonia Blues Festival
June, Bentonia, Mississippi, USA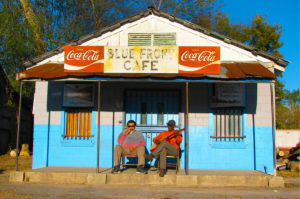 This festival was the brain child of Jimmy "Duck" Holmes, the unique blues artists known throughout the world for carrying on the haunting sounds of the "Bentonia Blues" guitar tradition — and owning one incredible "family" juke joint: The Blue Front Cafe.
Every year, the little town of Bentonia in Yazoo County has the Bentonia Blues Festival, a wholly unique delta blues treat at the Blue Front Cafe juke joint. The festival features RV camping, food, vendors, and of course, Delta Blues. 313 Wilson-Holmes Road just north of Bentonia, Mississippi on the infamous Highway 49 North.
Expect to find hotels a 20 minute drive in either direction, towards Yazoo City, or Flora. If you stay in Yazoo City, be sure to check out the town's unique & colorful downtown.