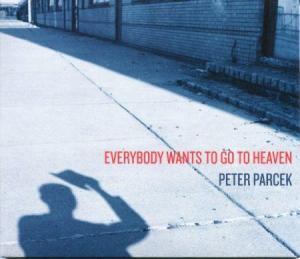 This is a review of singer/guitarist Peter Parcek's Everybody Wants to Go to Heaven, but before discussing this superb album, it's important to briefly digress into ZZ Top, a band that loved the blues but was also fascinated by electronic music. Rather than committing to one, ZZ Top fused the two together, creating a brilliant, genuinely new sound. Everybody Wants to Go to Heaven has that similar fusion of blues and contemporary sounds, also driven by a love of the different genres, rather than simply wanting one of them to be something they're not.
Peter Parcek's guitar playing drives the album (as does the ubiquitous Luther Dickinson, who seems to play on about 112 roots albums a month). But before getting to that, you have to understand that part of what makes this album so great is Marco Giovino's drums and drum loops, which are wonderful, perfectly cold and unemotional, but are also played just behind the beat, as all great blues drums are, injecting every track with a cybernetic sheen that is rooted in humanity.
Giovino's drums set the perfect scene for Parcek and Dickinson to create gripping, surprising tones and melodies. "Things Fall Apart" has a Cajun slide line that sounds like it could have come from Sonny Landreth. The harmony guitars during the solo can't help but sound like the Allman Brothers. But Parcek's cool, low-key vocals evoke Morphine's, Mark Sandman. The diverse influences cohere perfectly in an organic way. Nothing sounds forced. It all just makes perfect sense, though, on paper, it shouldn't.
"Every Drop of Rain" uses lots of atmospheric guitar over a straight-ahead rock beat. Here Parcek sounds like Chris Cornell while the light drums create the feeling of rain on a window. "Everybody Wants to Go to Heaven," a Don Nix cover, uses similarly atmospheric slide guitars that create swirls of sound that almost float above the song, rather than driving it. It's the techniques of blues music creating something not just bluesy, but also otherworldly.
The closing track, "Aunt Caroline Dyer Blues," a Memphis Jug Band cover, is a country blues, complete with violin. Musically it could be a lost track from the Rolling Stones' Let It Bleed. The surprise on this one is that it's a straight take, with tasteful acoustic slide and violin solos. It's a nice reminder that Parcek always does what's right for the song and isn't just trying to blow the listener's mind.
The beauty of ZZ Top is their understanding that someone like John Lee Hooker would have embraced electronic dance rhythms had they been available to him in the late 1940s. Similarly, Parcek understands that Robert Johnson would have taken advantage of drum loops and reverb if he had somehow had access to them. Everybody Wants to Go to Heaven is a record Johnson might have made, and that's not something many artists can say.
Everybody Wants To Go To Heaven by Peter Parcek
Label:  Lightnin' Records
Tracks:  10
Running Time:  44 Minutes
*Featured Image Photo: Margaret Lampert Photography