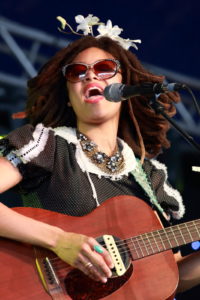 Valerie June hears voices.
Sometimes it's a young female voice singing. Other times it's a child's voice. Or a gospel song she may have heard in church. Often, she wonders if it's something she's heard before or did it just emerge from her own mind. If it did, it often comes to her complete with melody and lyrics. Then, she has to decide what to do with this gift. Sometimes the gift is so powerful it takes her and certain listeners beyond life itself.
"People who've lost someone or maybe someone's in hospice or people who are dealing with loss and grieving will listen to my songs and (they will still be) connected. They come to me after the show and tell me a story about how a song might have helped them heal. (They) played a song for one of their loved ones whose passed on whatever. Music is so powerful in that way."
Currently on national tour with The Order of Time, her second release for Concord Records under Concord Music, Valerie is bringing her music to much larger audiences. She got her start busking on Cherry St. at the King Biscuit Blues Festival and has released albums on her own, but playing for a thousand people on a major label tour is new territory for this unusual artist who transcends her Delta roots in some startling ways. Where she once might have performed for an intimate audience of 300 a whole evening of new songs no one has ever heard, now she plays mostly songs from her albums for fans who want to hear their favorites from The Order of Time or Pushin' Against A Stone, her 2013 release.
"You have (to decide) which ones get to go out there to the world and which ones are just for you. Which one are for your friends? They tell you, the songs do. I have written so many songs. I've played 'em for myself. I've recorded 'em on my iPhone. (Next) I play them with other musicians. We've played 'em in front of people. (Some of 'em) are just for me or sometimes I'll have a song just for my friends. It's just for my niece who was just born. That's her song. I don't sing it for anybody else but her. That's her song. (I have to) decide which song is a song that's gonna change the world."
Some of the voices Valerie hears are earth shakers who recognize this black woman from Memphis is functioning on another plain. Dylan recently gave her a shout out on his website, and she recalls a conversation she had with Dr. John backstage at a large concert. "I was like, 'Are you nervous?' And he said, 'Absolutely not.' I said, 'This crowd is huge. It's the biggest crowd I've ever been in front of in my life,' and he said, 'You've done the work. You've all been rehearsing all week. It sounds good. It's gonna be what it's gonna be! If the sound guys hear one thing, we hear one thing. The house hears one thing. It's gonna be what it's gonna be.'"
Valerie's music is heavily influenced by the trance sounds of Hill Country Blues, artists like Jess Mae Hemphill and Robert "Wolfman" Belfour. "Robert Belfour was like a great teacher to me in the path of art and creativity and brains. He was a master. And so he would speak to me. Nobody did it like Robert Belfour did it. He told me, 'I do what I do, and I don't want to do anything with you because I (distinctly) do what I do and not with anybody else. You do what you do.'
"I get asked to do stuff all the time, and I just have to remember it's ok to just focus on your craft and do what you do and do better at what you're doing, and it also taught me that no matter how many big stars are out there playing guitar, we all do what we do, and we all do it differently, and it's our music. So, he was a great teacher to me."
Valerie co-wrote "On My Way" on Pushin' Against A Stone with Booker T. "At a certain point I was like, 'Well, was it difficult for you to leave where everybody has you as like a soul artist from Stax, you know?' And he was like, 'You can't even let the world tell you who to be. You gotta tell the world who you are.' And he was just like, 'Come in here.'
"And he took me into his living room with all these records on the wall, some gold and silver and platinum and stuff, and he was like, 'The biggest selling record on this wall is a country record I did with Willie Nelson, "Stardust.'"  And he said, "If I'd have stopped with Stax alone, I never would have done that, and I've worked with so many artists in so many genres. It doesn't matter what color you are, where you come from, nothing. If you love music, don't let anyone tell you how to do your music or what to do.'
"From there he took me back into the studio. He sat me down. He said, 'I've got a song I've been working on for years, and I have no lyrics for it, and I only have the beginning stages of the music.' So, he started playing it "On My Way," and I was like listening, and I was like, 'Oh, my God, I got lyrics for this!!' So, I started thumbing through my books that I brought that I thought I wasn't gonna use, and this song came to me, the lyrics and this melody, and this fit perfectly with this music that he'd been keeping for years."
She may take you into a Hill Country trance or have you ride the rings of Saturn, but as soon as you see this beautiful woman with her forest of dreg locks, you will never forget her. She says it takes her 30 minutes to wash all that hair and six hours to dry it. Swimming in the ocean presents another challenge. "I washed my hair about five times after that over the course of two weeks. Each time I washed it, sand was coming out. I washed it and woke up in bed in sand. I was like (get) this sand out of my hair. So, finally, I'm not sandy anymore. The funny thing, when I was first born, I had reddish blonde hair. They call black people with that kind of hair Sandy or Red. So, when I had all that sand in my hair, I was literally "sandy" now."
Valerie June began a North American tour, February 5th, with a Carnegie Hall-sponsored concert at the Langston Hughes Auditorium in New York City. The tour runs through June and includes stops at the Ryman Theatre in Nashville. She does vocals and plays guitars and banjos. Ryan Sawyer is on drums along with bassist Matt Marinelli, Pete Remm on keyboards, Andy MacLeod on electric guitar and Dan Iead on pedal steel and guitar.