So, it's that time of year again, the time for chocolate bunnies, and Byron Bay Bluesfest! It's the only place us blues lovers would want to spend the long Easter weekend.
Although the weather Gods weren't exactly shining down upon us, the crowds were out in full force for Day One of the festival. With their gumboots on, and smiles unwavering, the enthused crowds were dancing freely in the heavy rain while making their way from one mud filled tent to the other to get their fix.
To kick off the day's best moments were the California Honeydrops. It doesn't take much to get you moving when watching this incredibly tight group of musicians serve up their potpourri of Rhythm, Blues, Soul, and Jazz, and the boys outdid themselves with an audience requested rendition of "Cry Baby Blues." Singer and trumpeter Lech Wierzynski had just about every person in the Jambalaya tent melting into the mud with his warm, honey-toned hollers. As a fan favorite from last year's festival, and after today's killer first performance, it's no wonder the band is scheduled to play all four of the festivals remaining days.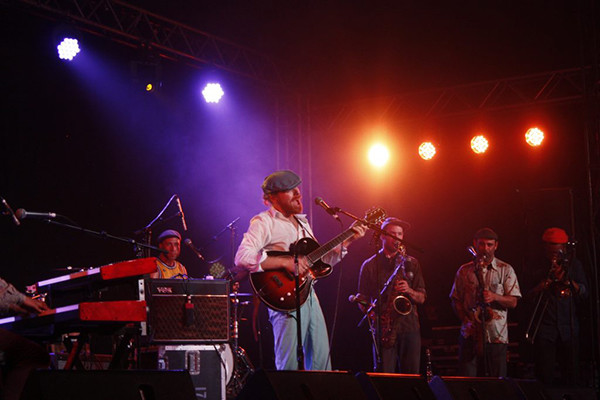 Another of the day's high points was seeing Leon Bridges, and his close-knit band bringing effortless swagger, and finesse to the stage. The frontman danced through a number of new tracks including "Bad Bad News," as well as the hits "Coming Home," and "Mississippi River." With neon lights behind him, and a brand new attitude exuding from within him, Bridges is stepping into new territory and putting the old school sounds he's known for into a more contemporary housing. Hearing this young visionary perform his new songs live was electrifying. A new era for Bridges, and a new high for Bluesfest.
To cap off Day One, The Original Blues Brothers Band opened their set with a crowd pleasing cover of Booker T & The MGs' "Green Onions." To witness Steve Cropper and co. play one of their earliest and greatest hits was exhilarating. They're a band of true professionals, and some of the most gifted musicians on the planet. Although regulars at Bluesfest, they're always a treat to see live, even if you're only there for Lou Marini's mustache…
A fun first day here at Bluesfest. Now for day two, and Mr. Robert Plant.