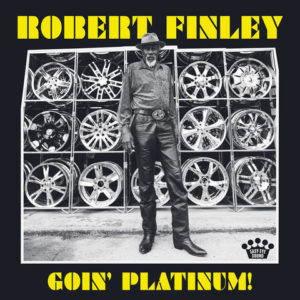 Nashville, TN – Soul singer Robert Finley announced new headlining tour dates throughout May in cities including New York, Boston, and Atlanta. Finley will also open for Nathaniel Rateliff & The Night Sweats in Richmond, Washington, DC, Toronto, and Montreal earlier that month. Tickets for the Rateliff dates are on sale now, and headlining dates will go on sale Friday March 30th at 10:00 AM
Finley is currently on the East Coast leg of the 20-date "Easy Eye Sound Revue Tour," with Dan Auerbach, Shannon Shaw, and special guests Shannon & the Clams. The extensive North American tour has remaining dates in Denver, Cleveland, Chicago, and more. Each night features performances by Easy Eye Sound artists all backed by The Easy Eye Sound house band, composed of Gene "Bubba" Chrisman, Bobby Wood (keys), Russ Pahl (guitar), and Dave Roe (bass).
Finley, a self-taught musician, is no stranger to collaborating with and leading an elite group of musicians. He joined the army as a teenager to become a helicopter technician, but quickly found work as the leader of the Army's band and toured the continent many times with them on guitar and vocals. Following his military service, Finley settled back in the States and made a living as a carpenter, still playing music, but more as a hobby than professionally.
It wasn't until Finley lost most of his eyesight and was forced to retire from carpentry that two happenstances rejuvenated his career. First, while playing to a street crowd in Arkansas, Finley met a member of the Music Maker Relief Foundation, an organization that provides direct support to older and underprivileged musicians. This lead to his first LP, Age Don't Mean a Thing, which was released on Big Legal Mess Records in the fall of 2016.
A video of Finley performing songs on the street also made its way to Dan Auerbach, front man of The Black Keys and new Nashville-based record label owner. Auerbach immediately recognized the singer's immense and innate talent, and writing and recording sessions with the Easy Eye Sound house band, which Relix Magazine named "Nashville's New Wrecking Crew," spawned the songs on Goin' Platinum!
*Feature image by Alysse Gafkjen, courtesy of Easy Eye Sound