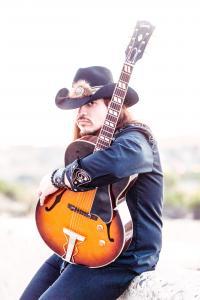 There aren't too many of us that are given a second chance. It isn't very often that the universe affords a person the opportunity to start over and make things right. For those few unique and privileged souls granted this luxury, it is not to be squandered.
Lance Lopez has led an extraordinary life, joining Johnny Taylor at 17 and then at 18, he became Lucky Peterson's band leader. At 20 he met and was encouraged by John Lee Hooker. His mentors included Billy Gibbons, Johnny Winter, and Buddy Miles.
Along with road life and education came the drinking and drugging as well. Now almost four years clean and sober, Lopez knows exactly what it's like to be given a second chance. He spoke with American Blues Scene about his new album, MusiCares saving his life, and how he loves the blues.
Barry Kerzner for American Blues Scene:
Apparently a lot of folks only see you as a blues guy. The reality is that you can rock out with the best of 'em out there. How do you feel about that?
Lance Lopez:
I'm a hard-core blues guy at heart. I'm a blues guitar player and a blues singer first. Rock was also a huge influence on me as a kid. That's how I discovered the blues.

I discovered the blues from Cream, Led Zeppelin, Stones, Jimi Hendrix, and even further back before that really. Growing up in Louisiana I remember being probably three or four years old and driving through a black neighborhood with my dad with the windows rolled down, maybe in the early '80s. An old man was sitting on the front porch with a straw hat and an acoustic, and he was playing slide and singing. I went "Oh my God, what is that?" My dad was like, "That's the blues."

Growing up in the '80s and being a young guitar player, there was no way around it. That was a time when Van Halen, AC/DC, Ozzy with Randy Rhodes: Being a kid, that's what was cool to play.

However, I gravitated to Cream, Zeppelin… all those bands that were blues bands. Guys like Leslie West. When I heard "Mississippi Queen" I didn't know that he was just playing a bunch of Freddy King licks.

That's where I was drawn to that and the kids started to tell me, "You just like playing all that bluesy stuff."
Like that's a bad thing?
Then we moved to Dallas from Louisiana and two weeks later I went and saw BB King. I saw BB King and Stevie Ray Vaughan play together and that's what let me know that it was cool to play the blues. That's when I was like "I don't care what anybody says, I'm gonna study the blues and play the blues." I studied delta blues and country blues right off the bat. I didn't even play the blues.

I was playing acoustic and studying all the delta guys – Robert Johnson, Son House and then worked my way up to the '50s electric from Chicago: Jimmy Reed, Elmore James, Muddy, Howlin' Wolf…
Your current solo effort, Tell The Truth was recorded and produced over the last three years by Fabrizio Grossi in Los Angeles. He and Kenny Aronoff were in Supersonic Blues Machine with you. So having him record the album probably made things a lot easier, no?
Absolutely. It was a lot more work for me because we were recording like twenty hour days. We would record three or four songs for Supersonic Blues Machine, take a break, grab a bite, grab a few drinks or whatever back when I was still drinking. We'd go back in the studio and record two or three songs of mine.

The Supersonic Blues Machine would be a full twelve-hour session, and then we'd break, have food and then go back in for another six or seven hours and record two songs. It was very daunting, but I think at the time it was really necessary because I was struggling with partying and drinking and drugs and being crazy. So it was the way that Fabrizio thought "If I can keep this cat busy" he'd keep me out of trouble.

I'm very grateful that he did that. It made me put on two different hats. For Supersonic Blues Machine it was very produced and very polished and much more song-oriented than my record, and my record was VERY song-oriented. At the end of the day come time to do my record, it was kind of like fun time. We can be a little looser, have some fun. It really was a labor of love. It took us four and a half, five years to do it. We started at the end of 2012 and ended at the end of 2017.
My biggest fear was that once I stopped being tight, and doing my artwork while I was tight, I didn't think I was gonna know how to do it. So when you got sober and you got clean, were you facing that same fear? Like, "I don't know if I'm gonna play good anymore…" How'd that work for you?
The great news is that MusiCares… Definitely want to talk about [how] MusiCares saved my life. The senior director Harold Owens helped me and found a place for me to go get treatment. He sent me to a wonderful facility in Nashville. A lot of musicians went there; a lot of people went through this place. One of the cool things about the facility is there was a studio in the basement of the gymnasium. A very famous musician donated a lot of money and a lot of gear to them.

They were able to open a studio; so, part of your treatment was if you were a professional musician, they allowed you to start going in. Like once you cleared detox and you were kind of OK medically, they would then allow you to have your guitar, and they would keep your guitar locked up. They would have whatever instrument you played and you would go into the studio and begin to start playing without… You get so used to "I gotta have a line of coke" or "I need to snort some heroin" or "I need to take some pills" or drink some whiskey just to get in the mindset to play some music.

It was able to start us while we were in treatment to begin to start playing instruments without having to use or drink. It was cool therapy and I just can't say enough about MusiCares and how they saved my life. That really and truly helped me. This November I'm working on four years. This time it's the real deal because I got beat up enough. I got beat down enough to surrender. When I was ready to surrender, I was real lucky that MusiCares was there for me.
Was it hard early on?
Early on, I would play a set and run back out to the parking lot and not even stay in the bar. I'd get on the phone and call my friend, and I'd stay on the phone until it was time to go back in there and play another set.

Today, as long as I'm doing what I'm supposed to be doing, and do my daily thing, it's OK. I can go and be anywhere. I've set healthy boundaries today to ensure my safety and to ensure my sobriety.

I don't know how many have read that I got sober… I mean it's being of service. I'm sharing my story, and that's being of service.

I don't know how many people have read an interview and said: "Man, I've been sober for four months now because I read your interview."
"Never Came Easy to Me" has that distant radio start and then the bass groove takes over. And then the organ washes over the top like putting a scoop of ice cream on a slice of apple pie. You don't need it, but it makes that pie so much better.
Written by my good friend David Grissom. David is one of the most brilliant electric guitar players of all time. He's one of my biggest heroes, and one of the greatest guitarists ever. He was with John Mellencamp, in the '80s. Then he was with the Dixie Chicks' as musical director for a long time; he played for them for many years.

Some of the guys I played with in Austin also played with David, so we had a lot of mutual friends. David was playing at the Saxon Pub in Austin and he plays there every Tuesday. I went one night and David had just made these recordings, and he recorded that song.

The next day I was driving back to Dallas from Austin, and I'm listening to the song and it was so powerful. I pulled over on the side of I-35 and I texted David, and I said "This song speaks directly to me. This is my new theme song. I've gotta record it." His version was a little more spacey or psychedelic. We kept ours a little more earthy, gritty, and Wild West sounding. It tells my story.

What else was cool about "Never Came Easy to Me" is the slide guitar I'm playing belonged to a farmer who was Warren Haynes' longtime guitar tech. He passed away and he left that 1963 Gibson Melody Maker to a very good friend of ours who worked at SIR in New York City. I recorded half of that song in New York. Everything kind of came together. It's an anthem of real life.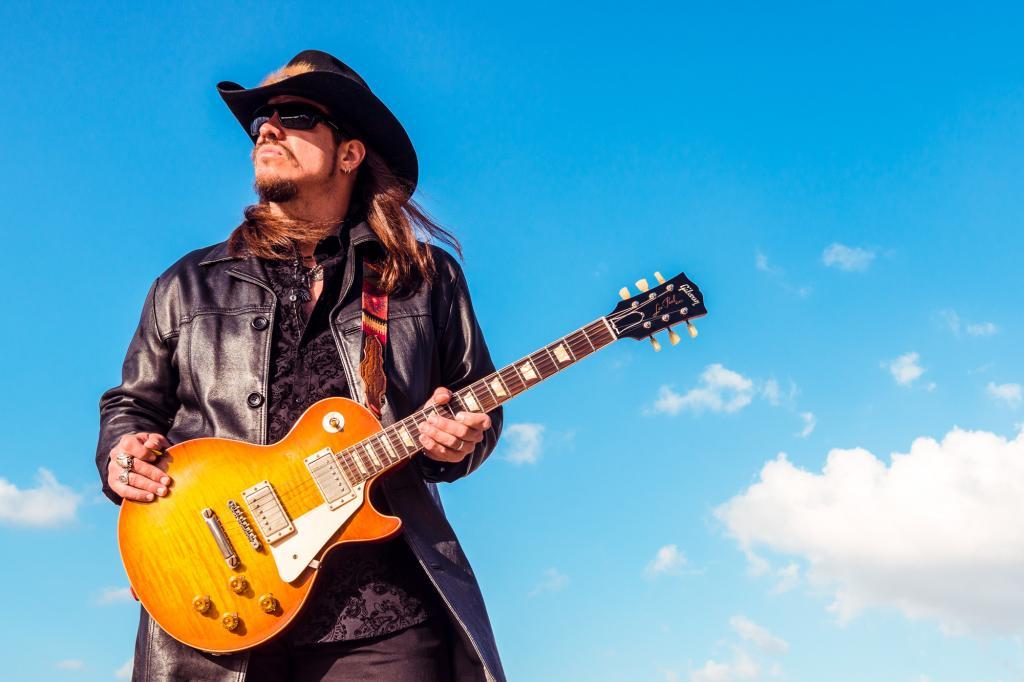 Let's talk about "Mr. Lucky." It was like you were doing your own thing but tipping your hat to Stevie Ray Vaughan.
That's funny – I never even thought about it like that, but yeah! Its just got a real heavy Texas groove to it. That song was selected because in the late '90s I worked with Buddy Miles. Buddy Miles introduced me to John Lee Hooker when I was 20 years old. John Lee Hooker was one of the most encouraging accepting people that I ever met in my career. I was very fortunate to meet John Lee Hooker and have him be a fan and supporter of mine.

I decided I had to record that as a tribute to John Lee Hooker, as a tribute to Buddy [Miles], and also as a tribute to Lucky Peterson who I also worked with at that time. Lucky was the first guy who took me all over the world. If hadn't been for Lucky, I'd have never gone to Europe.

So, that song was a tribute to those three guys.
Then there's "High Life" which I would describe as rough and ready. It's not for the meek. It's alive and thumpin'.
"High Life" has definitely got that more modern southern rock sound as opposed to southern rock, blues rock, any of that. You had a vintage era of southern rock, like Allman Brothers and Lynyrd Skynyrd, and Marshall Tucker Band. Then you have a modern era now which is The Black Crowes, Blackberry Smoke, and bands like that. It has those vibes in it; it's more of a southern rock thing. The happy-going guitar lines were what's cool.

That song is about my daughter. I wrote it about my little girl and how she's the reason I'll never need to get high again. She's what makes life high. Before she came around life was pretty crazy and God-willing, she'll never see that side of me, ever.
On "Angel Eyes of Blue" you used a talk-box and it seems like the talk-box is making a comeback. I was talking to Bernard Allison recently and he used it on his latest album, and Eric Gales used it on his album out late last year.
We got one from Jim Dunlop and we added it in the studio. We also used it on a track on the new Supersonic Blues Machine called "Stranger." We had it sitting around and I always loved what Jeff Beck did with the talk-box with Beck, Bogert, & Appice. I know Peter Frampton made it very famous and also Joe Walsh.

I have some live recordings of Jeff Beck with Beck, Bogert, & Appice in Japan, and that's where I was trying to incorporate something like that on the record to get the whole Jeff Beck talk-box thing happening.
Speaking of Jeff Beck: There's a quote from him where he describes you as "A very exciting and intense blues guitarist." How do you feel about that?
It's quite an honor. I was able to open for Jeff Beck on some shows in Germany many years ago, and I just love Jeff! He's one of my biggest heroes and always has been from the beginning. He's always so supportive and very encouraging. I think he's incredible.
What do you have on your listening device that would surprise people?
I'm looking at it right now; It's everything that people would expect! B.B. King, Bobby Bland…
Who have you been listening to lately then?
Tell ya what: Here's one… The Kinks!
The Kinks rock!
All of it is mainly old blues. Albert King, B.B. King, Bobby Bland, Elmore James, Freddie King, Howlin' Wolf, and The Kinks in the middle of all that. I've got a couple of songs from their early catalog that I'm thinking about covering for my next record.
What is the greatest lesson that you either learned on the road or that the road itself taught you?
The greatest lesson? Sobriety. The road taught me sobriety. I thought that I had to do the drugs and drink stuff that my heroes, guys I was hanging around with… I wanted to be like them and play like them and sound like them. I just wanted to fit in with some of the older cats when I was young.

Today it's like that was a bad decision all the way around. It made me who I am, but it's a pitfall that some of my peers kind of avoid. It was what it was. But yeah man, that was a hard lesson.
What is the best advice anyone has ever given you?
Take one day at a time.
Anything else you want to say to the folks at home?
We hope they support the new album, 'Tell The Truth' and we look forward to seeing them out on the road this year.
*Featured Image by Alex Solca