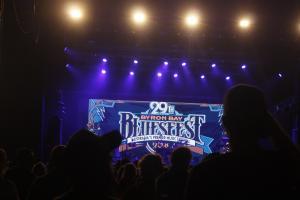 After an impressive first day at Bluesfest, Day Two had a lot to live up to, but it delivered in spades with some of the festivals best moments yet.
Not only was there sunshine, but there was "Soulshine." Gov't Mule played the Allman Brothers track during their set in the Jambalaya tent. No strangers to inviting guests on stage, they were later accompanied by Jackson Browne for a beautiful cover of "Melissa." To see Browne and Mule on stage together for the very first time was something special, and the performance left both Haynes and the audience with a tear in their eyes.
As expected Aussie Blues bros, The Teskey Brothers, played with their whole soul to a packed out crowd in the Jambalaya tent. Front man Josh Teskey brought with him a humble energy, and some serious harmonica skills, whilst his brother went for a less is more approach on the guitar, ala BB King. To witness the guys go from playing some of the country's smallest venues to playing to a huge festival crowd in only a matter of months is heart warming, but it was Josh Teskey's vocals that truly made today's set memorable.
Over in the Delta tent, Bobby Rush, the sassiest and downright sexiest 85 year old on the scene, was thrusting his way through a dynamite set. Complete with a band wearing matching sparkly shirts and two sparkle clad, curvy women, the harp playing Blues veteran ran through both hits, and covers. The highlight being a very sexual rendition of "Hoochie Coochie Man."
Fast forward a few hours, and the man we had all been waiting for, Mr. Robert Plant and his Sensational Spaces Shifters were there to close day two in style. Pulling in the biggest crowd of the festival so far, Plant was a few minutes late and had the audience chanting his name. Seconds later he appeared, bursting onto the stage with a perfectly executed rendition of "I Can't Quit You Baby," hitting highs we didn't know he was still capable of reaching. Performing a mix of "old and spanking, spanking new songs" the set was mesmerising, and the entire band held their own in the presence of one of rock and roll's greatest vocalists.
Plant and his Sensational Space Shifters left us with the aptly titled Zeppelin classic, "Babe, I'm Gonna Leave You," and came back out for an encore, leaving us all reeling with a highly anticipated performance of "Whole Lotta Love."
It's fair to say day two was a good one! Here's to day three and some Canned Heat.