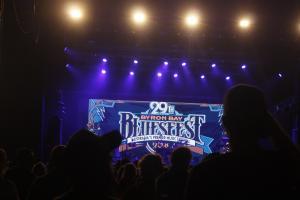 After Friday night's mind-altering performance from Robert Plant and his Sensational Space Shifters, I was reeling, hoping that the remaining three days of the festival could live up to the standard that had been set, and day three seriously upped the ante.
Saturday's standout moments were the best of the entire festival. After another crowd pleasing, sweat inducing set from the California Honeydrops, CHAIN served up some Aussie blues in the Delta tent, a performance that was equal parts stand-up comedy as it was blues. Before busting into a performance of "32-30 Blues" frontman Matt Taylor had the crowd in fits of laughter, "I know ya looking at us thinking we are one of those state of the art bands, and I'll show ya just how modern we are, we are gonna go back to the 1930s when Robert Johnson recorded this song."
Taylor was "suckin' and puffin'" on his 9-inch harmonica, and guitarist Phil Manning was there to reciprocate all of that energy, giving the crowd exactly what they wanted. After today's performance there's no doubt in my mind that CHAIN continue to be one of the finest Blues groups on planet earth.
After getting a dose of CHAIN's heavy duty blues, Jackson Browne was there to bring us back down, opening his set with Late for the Sky's closer, "Before The Deluge." Throwing in new songs with the old, the audience was under his spell from start to finish, and his backing singers had the crowd awe-struck as they took to the mics with their rich, Gospel vocals on "Lives in the Balance." After performing crowd favourites "The Pretender" and "Running on Empty," the troubadour closed the show with "Load Out/Stay." A beautiful, introspective set from the one of the worlds most gifted songwriters.