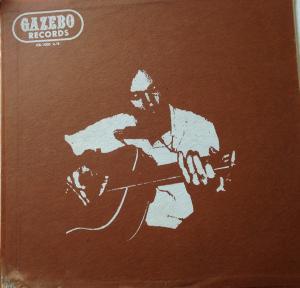 Like many teens in the 1960s, Michael Floyd got caught up in the East Coast folk music scene. Going a step further he took the stage name Jesse Graves, tracked down the elder masters of the time, and dove headlong into the blues.
Graves was playing colleges and coffee houses when he met Johnny Shines. The men found had two things in common; love for the blues, and a concern that a young, white man would be taken seriously in the genre.
Shines told the youngster, "Son, you got bluesman shoes, and that's enough." That bit of encouragement led Graves to search out Reverend Gary Davis, Son House, Mississippi Fred McDowell and others who taught him the blues as they knew them.
In the 1970s, Graves started his own record label, Gazebo Records, to promote the blues music of his early heroes and to provide royalties to the families of the original artists. The label released one album, Graves' own eponymous recording in 1972. Unlike other artists of the time, Graves didn't contemporize the music. Rather he laid down 10 tracks of classic Delta-born blues, recorded live and raw, the way he'd been taught.
Fast forward over four decades, and singer-songwriter, musician and music blogger Brant Buckley has a sit-down with Graves.
Brant Buckley: How and why did you get into the blues?
Jesse Graves:
In 1966 there was a folk resurgence in the 60's. I really liked Mississippi John Hurt's Country Blues. There was a place in Philadelphia on 52nd and Spruce Street. They used to have live acts like Bobby Blue Bland, Melvin and the Blue Notes, and Patti Labelle. I used to stand outside because I was under age and I would listen to these people perform. That's what really sparked me.
After you released your Gazebo Album how did your career pick up?
After the album, Michael Tearson was with WMMR and he gave me my first airplay. After that, I started getting gigs. Bill Eib was my manager and he booked me in the colleges and what have you. I met with Dick Waterman and Bonnie Raitt. Bonnie used to tack me onto a lot of her shows so I could get practice and exposure. The national guitar that she used on her first two albums she gave to me and I sold it for 300 dollars to get high. I was into the drugs back then. I drank myself right out of a career. Gazebo Records went out of business when I ran out of money.
What was it like getting hands on experience from Muddy Waters and opening for him at the Main Point?
I listened to Muddy on Chess Records as a kid. I listened to a lot of Reverend Gary Davis, Muddy Waters, and Johnny Shines. I owe everything I am to the old black artists. It was a music that really stirred my soul.
Have you written songs for other artists?
I wrote a song for Tom Waits back when he was writing all of his own material. He didn't use it. He and I were friends back in the mid 70's. I did a gig with him and Bonnie at Widener College in Chester PA. We used to hang together because his girlfriend and my girlfriend at the time lived in an apartment and when we came off the road we would go to the apartment. I wrote a book of prose  poetry and song lyrics and Waits wrote the introduction but it has never been published. They will probably publish it after I die. Bill Rogers has all of the original transcripts.
What's your greatest and worst musical moment?
I played the Academy of Music in Philadelphia with Bonnie Raitt and Taj Mahal and it was sold out. I enjoyed that performance more than most because the people were into all three of us. It was me and Johnny Davis. He was my harp player for 10 years. Every time I'd go onstage I say a prayer and I would let the guitar take over. I learned by watching. I would go to Gary Davis' house. When I met Son House and he played, I watched him like a hawk. Bonnie, Bill Eib, and Bill Rogers really gave me my break.
Where do you think the blues is headed and why does it always remain under the radar?
I don't know (Laughing). Guys like Buddy Guy… Then there are guys like John Hammond. I used to open for John. I think the players that get involved in blues put their own imprint on it. What the public likes or doesn't like; it's a matter of opinion. I used to play the black clubs in north Philadelphia and some white people were there. The older people in the 60's and the 70's used to like my music. The younger guys would give me a hard time. Everyone has a different opinion. People like Keb' Mo', Gary Clark Jr., and Rory Block are all trying to keep it alive with their own twist to it. George Thorogood was doing Chuck Berry riffs and duck walking to a new generation of listeners. It's like Tom Waits said it's an old story unless you never heard it before.
If you had to do it over again what would you do differently?
Run away and join a gypsy band and play the tambourine.
Are you making a comeback like Son House? What do you want to do with the rest of your life?
I have a lot of blues songs that are mine. I would like to record them. There a couple of people where I live who have taken an interest in me. I would like to do one more album. I would like to play locally. Nothing stringent because I'm old. I just want to try and have some fun. Music is fun. If it ceases to be fun then you are in trouble. You have to love what you do and never give it up. I gave it up because I didn't think anyone wanted to hear from me. A lot of people helped me along the way. If there is anything I can do to help anybody I will do it. It didn't cost me anything and it's not going to cost them anything. My best advice is to go see as many live blues acts as you can and soak it up like a sponge. Also, one last thing. The guy and the girl on You Tube under the name Jesse Graves is not me. That's all there is to it.
*Feature image by Brant Buckley