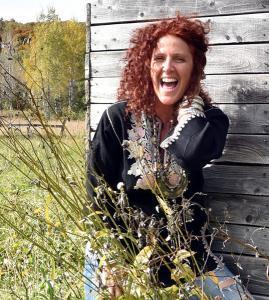 Canadian blues siren Angel Forrest is in a good place these days. She's released ten solid albums, and won numerous awards including ten Lys Blues Awards and eight Maple Blues Awards. She is loved by fans throughout Canada and Europe as well. She's shared the stage with the likes of Burton Cummings, Shawn Phillips, Thornetta Davis, Larry McCray and more.
Forrest released Electric Love on February 2nd of this year. The double live album contains 15 tracks with original compositions sharing time with covers of favorite classics. Sarah French recently had the opportunity to ask Forrest about her 30 year career, her music, triumphs and goals.
Sarah French for American Blues Scene:
You are currently celebrating a milestone in your career, what can you tell us about that?
Angel Forrest:
I really do find it hard to believe, 30 years of playing music with my friends.  Seeing the world: making music writing it, recording it, living my dream. It really is quite amazing.
You just released a new double live album Electric Love.  Why a live album?
I love live. I like studio. But I really love live. [I love] the energy between the public and the band; the Magic that happens when you're playing with your friends. So, it's kind of a gift to me, recording a live album of songs from the past 9 albums. Enjoying what I've been doing for so long and documenting it is something I've liked to do the last couple of years. And 'Electric Love' …well it's all in the name.
What can fans expect from an Angel Forrest concert?
You never know what's going to happen when you're playing live. You get on stage and you open yourself up; you cry, you dance, and you laugh. I have a tendency to talk a lot with the crowd, not at them. You can be pretty sure that you're going to experience some emotion. I like to say that you can let your freak flag fly when you come to one of my shows – let it all hang out, be who you really are and not be judged. At least that's what I hope people are thinking and feeling. I know that's what I'm feeling on stage.
You are part of a large and very tightknit blues community in Montreal, Canada. What makes the Quebec blues scene different from other cites?
I think all blue societies have their clique of people. I don't really think that the Montreal or the Quebec blues scene is any different from any other one in Canada or in the world for that matter. I think we all are lovers of the Blues and lovers of making music, and I think we're all doing the best we can. I know that in our society we like to take care of each other and help each other advance; help each other experience another level. I think we're lucky in that respect.
How many awards have you received throughout the course of your career?
I've been very fortunate to be recognized in the past 10 years for my music in the areas of songwriting, performances, producing and singing. So in all I guess I must have about 18 awards. I have 10… lucky number 10, Lys Blues awards from Quebec. I have eight Maple Blues Awards: five for singer, 2 for album, and 1 for producer.
As a wife and mother, how has it been to be a touring musician coupled with household and family responsibilities?
For the last 17 years I have been very fortunate to be on this journey with my best friend and husband Denis Columbus. We share and experience it all together. I can't say I would be where I am today if I didn't have him by my side. I've been a mother for 27 years out of 30 years of my career. It  has not been easy. I've been lucky to have lots of support.

With my first child, it was difficult because I had to work at night and then work during the day because I was alone with her. My mom was there a lot, thank God! With my second child, she was on the road with me all the time and I was very lucky to have her with me.

I've always said and I will say again without my children I don't think I would be a happy successful musician. Without the music I don't think I'd be a good mom so they balance me out very well and we're all pretty happy with the road that we have taken.
Is there one highlight of your career that stands out as most memorable?
There are so many memorable moments in the past 30 years I can't really choose just one. It has been fantastic:  I have to say that every time I am nominated, collaborations with different artists… making my Angel's 11 album… the whole process from the beginning.

Choosing the players. Doing the little capsules on video with the guys. Writing the songs and recording them in the studio. And to the actual launch on my 49th birthday March 11th, it's been nothing but amazing. I've had many ups and downs but the UPS have been so amazing… so worth the downs, that every moment has been memorable.
What can we expect from Angel Forrest in the near future?
I have lots of plans right now I'm working on my husband Columbus's new album. This is the first time I've ever written words and melodies for someone else to sing so it's been quite exciting, that's going to be coming out in September and I am working on my next 'Angels 11 Squared' or 'Angels eleven 2' or the second eleven.

I'm not sure what I'm going to call it yet and I'm planning a trip in the bus to travel through the southern states down to Central America Costa Rica… playing all the way, meeting other musicians and hopefully making music. Even documenting all of it on video and maybe putting out a little documentary, 'Music for Maggie: Music from the Big Black Bus!' Very exciting stuff!
*Featured Photo by Mikel Samel