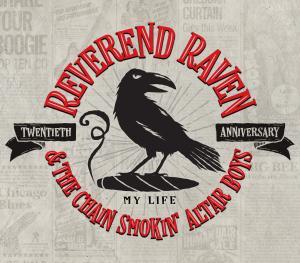 The blues took an interesting leap in the 1960s, quickly going from traditional black American artists to the Rolling Stones and their straight blues covers, to The Paul Butterfield Blues Band and John Mayall's Bluesbreakers, who moved the blues needle right into Cream, who used the blues to segue into manic jams.
Before the 1960s ended, Led Zeppelin would release its debut album, and the blues was officially something almost completely different than it had been at the start of the decade. In the span of a decade, the blues became completely reinvented, its limits pushed to something very different from its origins. Those 1960s bands had the swagger of the blues, but it's questionable to what extent Muddy Waters, Robert Johnson, or any of the Kings might have recognized their music. Boundaries had been pushed and the blues exploded into something completely new and different from what it had been.
But what if it hadn't changed? That question is answered by Reverend Raven and the Chain Smoking Altar Boys. My Life is a blues album that sounds like it could have come out of the mid-1960s. It's what the blues might have been had it not have become a departure point for acrobatic musicianship, breakneck tempos, and often-ridiculous lyrics.
My Life is a band revisiting its catalog. Reverend Raven takes original songs from his band's four studio albums and uses various lineups to reinterpret the tracks. If you're not familiar with Reverend Raven's work, it's a great and fun way to easily cover a lot of ground. The album plays like a live show. Reverend Raven is the common thread, providing guitar and laid-back vocals.
The laid-back vibe is what separates the album from so much of that later 60s blues rock. The sound is reminiscent of The Paul Butterfield Blues Band, with lots of impressive harmonica work and guitar solos that show flash, but that don't overpower the songs.
The songs represent a survey of the blues. "Handyman," the lead-off track is jazzy, featuring lots of impossibly clean guitar. "Creature of Habit" is a bluesier rockabilly take on "Stray Cat Strut." "I Can Do You Right" is a slow blues with a huge organ sound that will make you feel like it's Sunday. "My Life" is pure Elmore James. But where The Paul Butterfield Blues Band pushed that classic riff to its limits on "Look Over Yonder Wall," Reverend Raven lets it breathe.
Lots of incredible music came out of the 1960s blues revival. But the time was so fertile, and creativity was so strong, that no one really dwelt in the sounds. Instead, artists built and built and built. My Life captures a moment that never was, or at least wasn't long enough, in a fun, interesting way. It's an album that's ahead of its time by staying behind the times.
My Life – Twentieth Anniversary – Reverend Raven & The Chain Smokin' Altar Boys
Label:                  Nevermore Records
Tracks:                16
Running Time:     65 Minutes