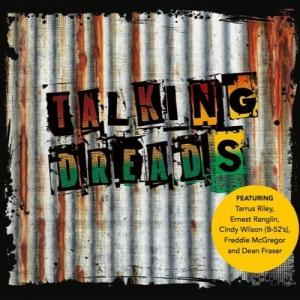 Reggae artist Mystic Bowie will release his album titled Mystic Bowie's Talking Dreads on June 15th. The album features classic Talking Heads songs, and more, reggae-style. The first single, "Once in a Lifetime," will be released on May 4th.
One may question why a blues publication would be reviewing a reggae album. The answer is simple. Reggae, like the blues, is roots music. It's not just music but culture. Not to mention many Caribbean rhythms are heard throughout the blues genre.
How does a project like Mystic Bowie's Talking Dreads come about? Bowie is a former member of the Tom Tom Club, a band that included former Talking Heads founders Chris Frantz and Tina Weymouth. He performed with them for over 20 years. Bowie always wanted to infuse fresh life into the Talking Heads' classic catalog with a high octane mix of roots reggae, ska and lover's rock. Mission accomplished.
But this is no ordinary cover project. "Talking Dreads is much more than a cover band," Bowie says. "I am very much drawing on my own musical culture and history to make these amazing songs my own, while at the same time preserving the integrity of the Talking Heads songs."
Eleven of the 13 tracks are Talking Heads covers, while two others are songs that are just as near and dear to Bowie's heart. "Piece of My Heart," was originally recorded by Aretha's elder sister Erma Franklin in 1967, but became a huge hit a year later when Big Brother and the Holding Company recorded it with Janis Joplin handling the vocals. The other is "Shakedown Street," the Jerry Garcia/Robert Hunter penned title track to the Grateful Dead's 1978 album.
Save one guest, Bowie insisted on having all Jamaican musicians on this project. His reasoning is sound. If other than traditional reggae musicians were employed, they may very well be Talking Heads fans, and want to fall into the original grooves. The one non-Jamaican guest is Cindy Wilson of the B-52s. Wilson was chosen as a voice that harkens back to the era of Talking Heads' new wave heyday. Her duet vocals with Bowie on "Heaven," make for a soulful rendition.
Some of the artists included in this offering are reggae mainstays including Freddie McGregor, Ernest Ranglin, Tarrus Riley, and Dean Fraser. Bowie bridges the generational gap by inviting Kirk Bennett and Lincoln Thomas to participate.
Talking Heads hits such as "Psycho Killer," "Life During Wartime," "Once in a Lifetime," and "Burning Down the House," all get the reggae treatment. To our ears, they're just the ticket for those upcoming long summer days.
Sire Records owner Seymour Stein, who originally signed the Talking Heads, gave his approval to this project – on one condition. Bowie must include the song, "Love Goes to Building on Fire," as it was the first song Stein heard the band play at CBGB's and convinced him to sign them. Mystic agreed, making it the album's opening track.
For the Talking Heads purists, both Frantz and Weymouth gave Mystic Bowie's Talking Dreads an enthusiastic thumbs up. Who are we to argue? Two zealous thumbs up from us as well.
Artist: Mystic Bowie's Talking Dreads
Title: Mystic Bowie's Talking Dreads
Release Date: June 15th, 2018
Running Time: 55:17
*Feature image by Jacob Blickenstaff.