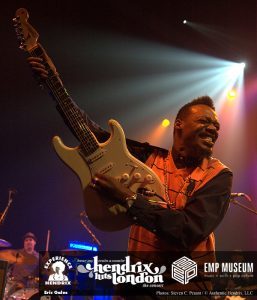 HOLLYWOOD, CA. – Authentic Hendrix, Epic Rights and Perryscope Productions will launch the new Authentic Hendrix global retail program at the world's largest licensing trade show, Licensing Expo, in Las Vegas, May 22nd – 24th.
Epic Rights and Perryscope Productions will offer retailers, manufacturers and licensees an all-new Authentic Hendrix brand guide with iconic new photographs along with logos, lyrics, album and fashion inspired by the unique style of Jimi Hendrix.
The brand program will include fashion apparel, headwear, footwear, tops, figures, wall art, accessories, jewelry, home decor, digital products, collectibles and never-before-licensed products from a wealth of material handed down from Authentic Hendrix and Experience Hendrix. The new merchandise will begin arriving at retail stores by early summer 2018.
Recognized the world over as one of the most creative and influential musicians of the 20th century, Jimi Hendrix' innovative electric guitar style influenced a multitude of modern musicians, from George Clinton to Miles Davis, and Steve Vai to Jonny Lang. Influenced by such artists as B.B. King, Muddy Waters, Howlin' Wolf, Buddy Holly, and Robert Johnson, Hendrix, without reading music, taught himself to play first using a $5 second-hand acoustic guitar. Later, when his father presented him with his first electric guitar, a Supro Ozark 1560S, he forever changed the musical landscape.
"We're very intentional about giving our fans and friends something they'll truly enjoy and appreciate – something that celebrates Jimi and his extraordinary spirit," said Janie Hendrix, CEO/President of Experience Hendrix and Authentic Hendrix. "Epic Rights and Perryscope Productions understand that. We're excited about the collaboration. And having it coincide with the release of Both Sides of the Sky makes this even more exciting."
Founded by James 'Al' Hendrix, Jimi's father, in 1995, Experience Hendrix has been run, since its inception, by the family members handpicked by Al during his tenure as Chairman. As a part of their daily operations, Experience Hendrix and Authentic Hendrix oversee Jimi's timeless legacy on a worldwide basis. They are the official family companies charged with managing the music, name, image and likeness of Jimi Hendrix. Experience Hendrix and Authentic Hendrix own hundreds of registered trademarks worldwide, and own all of the copyrights in the Jimi Hendrix music catalog.
Epic Rights, Inc. is a leading music industry retail branding, merchandising and concert artist services company representing many top artists. The company provides a broad scope of services, including retail branding and licensing, official artist's website and social media management, and trademark registration consultation.
Perryscope Productions, LLC is a New York-based global licensing and merchandise company representing iconic and eclectic clients such as Pink Floyd, Janis Joplin, Muddy Waters, Genesis, The Band, and Isaac Hayes.
*Feature image from Experience Hendrix courtesy of PR Newswire