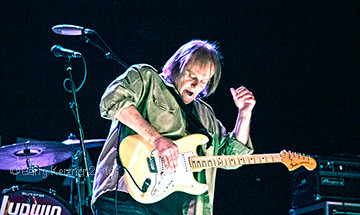 Finally after 16 years, and a failed attempt at playing down-under a few years ago in the midst of his health problems, Walter Trout graced the Jambalaya stage and solidified Bluesfest day four as a triumph.
The highlight of the set was an emotional rendition of "Say Goodbye To The Blues" which he dedicated to the King of the Blues, Mr. BB King. Trout told the story of meeting BB King when he was a 16-year-old guitarist, and having the blues legend sit him down for an hour to speak with him, inspiring him for life.
Hours later in another tent, and what felt like a completely different planet, Seal was performing for  a surprisingly large crowd. To hear the entirety of the audience in the Crossroads tent singing along to "Kiss From A Rose" was not only a life goal but a festival highlight. While I remain skeptical about his presence on a blues festival line-up, Seal delivered a varied set, performing Sinatra style standards, greatest hits, and some more pop-heavy tracks that all got the crowd grooving. An inspired professional, he worked the stage like he owned it, which in fact he did!
When all was said and done, Lukas Nelson and Promise of the Real delivered the day's most high energy set and one of the best the festival has seen thus far. Make no mistake, Lukas Nelson is far more than just Willie Nelson's son; he's a gifted guitar player, and one of this generation's most talented singer-songwriters. Between a cover of Paul Simon's "Diamonds On The Soles of Her Shoes" and songs off his latest LP, Nelson had everyone sweating, and soulfully singing along. Even Michael Franti was up front getting involved. We'll see y'all tomorrow!
*Featured Image Photo by Kyle McOscar, courtesy of the author