In a world full of uncertainties, one thing is for sure, Bobby Rush is a certified blues legend. Rush has been making his mark on the scene since 1951, and has released 377 albums within that time, claiming to have inspired everyone from James Brown to 50 Cent with his sassy, funk fixated take on the genre.
I caught up with the Grammy award winning Bluesman at Bluesfest Byron Bay to talk his first encounter with the blues, being late to Muddy Waters' birthday party then rejecting his women, and what he's hoping to find in more contemporary blues players.
Chloe Kay Richardson for American Blues Scene:
How did you get involved with the blues? Do you remember the first time you heard the Blues?
I started singing the blues when I was a kid, my daddy was a preacher, a pastor for church and he taught me everything that I know about the blues. When I was about seven years old I had this guitar, he tuned it up, and he said "let me sing a song to ya, boy, I used to sing when I was a little older than you." With him being a preacher I was looking for him to sing "glory, glory Hallelujah" or some Gospel song, but he said "me and my gal went chinquapin hunting, she fell down and I saw something," and I said "Daddy! My daddy" a preacher now, I couldn't believe it, I said "daddy, sing it again" and when he went to sing it again my mother was in the kitchen and she coughed meaning don't sing that to that boy.
So, those are the first things that I remember that I loved about my father. Him being a preacher, he didn't tell me to sing the blues, but he never told me not to, and I knew then I was going to be a blues singer.
That's great. How did you get into performing?
I'm a performer, and I'm a comedian, I'm a stand-up comedian, like Richard Pryor. I joke a lot but I'm serious about what I do, and I think I'm pretty good at what I do. I work on being good because I know everybody may not like me, they might not like where I'm coming from especially with the girls on the side of me that may offend someone. But even if they don't like me they'll say "well I don't like old Bobby Rush, but damn he good!" That's all what matters to me is being good.
So how did the girls get involved in the live shows?
I've had that for about 58 years and a lot of the rappers watched me, a lot of the guys watched me through the years including James Brown, because I'm older than James Brown and Ray Charles, they younger than I, so I was doing this before they got their girls, I just didn't have any hit records, but I was doing it first.
Speaking of records, you've released 377, do you have a favourite?
The one that sold the most. No, I'm a jokey kind of person but I'm serious with some of the things I talk about and I like stories. Everything I do, even if I'm saying it in a jokey way, has serious content. I'm talking about the garbage man running off with my woman, now that's serious, that's any man but not your garbage man. It's like if you have a girlfriend trying to date your boyfriend, if it's your girlfriend it's one thing, and if it's someone else it's a different thing. If it's someone you lent money to, and you call a friend talking to your man, that's a no-no, and the garbage man, NO.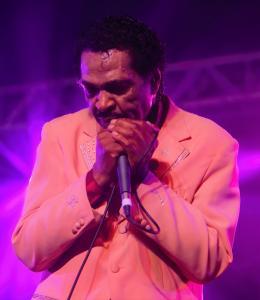 Definitely not the garbage man!
No, not the garbage man. He comes to your house every day, then all of a sudden they going together. Not the garbage man, or the mailman. Anybody but them!
Yeah, that's the worst case scenario really. You're 84, and besides Buddy Guy you're the most energetic 80 something year old I think I've ever seen. How do you stay so lively, and energetic on stage and off?
I'm just gifted, and blessed. I feel pretty good once I've got the ladies on the side of me, and I'm always learning. I'm always enthused by what I see and what people see in me, and I'm hoping down the line they see the same thing in me as an entertainer. That keeps me energized, thinking I'm giving people what they want to see.
Totally. Makes sense. So, speaking of Buddy he once said you've got to have the blues to play the blues so what gives you the blues?
My thing is you not only have to have the blues, but you've got to live the blues to play it. I live the blues. My blues is no different, it's just that I've got the energy, I'm talking the same talk, lyrically I'm saying the same thing that Buddy Guy sings, or B.B King, but I've just got the energy behind it. My stories are the same, it's all about making love, being in love, up, down, money, no money, bad luck, good luck, it is all the same.
Very true. Now you mentioned the other night during your show that you were offered the song "Hoochie Coochie Man." Tell me that story.
It was "Hoochie Man" then, not "Hoochie Coochie Man." Willie Dixon said I have a song called "Hoochie Man" so he went back and talked to Muddy about "Hoocie Coochie Man" and some of the lyrics were very close to what I had, but I wound up not liking "Hoochie Coochie Man" cause I wanted "Hoochie Man" so I said "just give it to Muddy Waters it's too old for me." I wish I had did it. It was incomplete. It took some of the lyrics that I had, some of Muddy Waters' and put them together, but I didn't like "Hoochie Coochie" it was a little country to me, I wanted "Hoochie Man," cause hoochie means hip.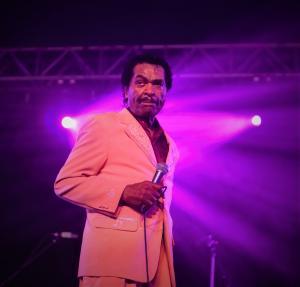 Yeah, I can see why you would regret that! Were you friends with Muddy?
Yes. I remember when he was 32 years old he invited me to his birthday party, I was in my early twenties. The party was at 10 o'clock but I forgot about it, and I got there at 11:30 so the party was over he was up and over this club, hanging out of this window, and he called me "blood." He said "Blood, I've been looking for you. You late!"
I came upstairs and he had about ten ladies with little dresses on, they were real old ladies, I asked one how old she was and she said "31," the others said "I'm 32," and "I'm 29," I sneaked out the backdoor saying "all those old ladies, they thirty something!" I was 20 something, and to think that I thought 35 was old, oh God. But yes, I was a friend of Muddy Waters' and I talked about that until he passed, about coming to his birthday party, and sneaking off and leaving him because the ladies was too old for me.
Definitely not too old now. So are there any young Blues players on your radar at the moment?
Yeah, Dexter Allen, he's one of the guys back in the US, and Grady Champion, we've got a few guys who are coming up who I think would be great in the Blues, but what bothers me about most of the black guys who join the blues, is that a lot of them are doing it out of respect of getting paid, nothing wrong with that, but it's not out of love for it.
I did it out of love for it because I never thought I'd get paid for what I do, I was doing it for the love of the music, I just love the blues, you know? And I see a few guys who love it, but I'm looking for a guy who loves it like I love it, like Muddy Waters or Buddy Guy. See I love it, I sleep it, my kids are blues, my family's blues, everything around me is about the blues, I've just got energy with it.