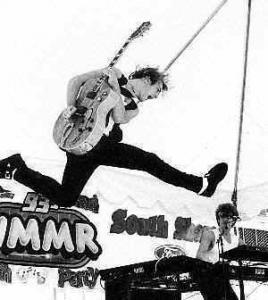 Tommy Conwell is a guitarist, songwriter, and performer. He is best known as the frontman for the Philadelphia-based band Tommy Conwell & The Young Rumblers. The band had a #1 US mainstream rock hit in 1988 with "I'm Not Your Man".
Conwell's music also appeared in the following original motion picture soundtracks: Shout-"Devil Call Me Back Home" (Written by Tommy Conwell and performed by Otis Rush) and "More Than A Kiss" (Written and performed by Tommy Conwell). Chasers– "Rock With You" (Written By Tommy Conwell, M. Rauer) Performed By Tommy Conwell & The Young Rumblers.
Brant Buckley:
Who are your blues heroes? Which single blues guitar player comes through most in your playing?
Tommy Conwell:
Jimmie Vaughan comes through most. In the early to mid 80's he was at his peak with the Thunderbirds and his music was so accessible. It was freakishly unique. It continues to be. He's often imitated but never duplicated just like his brother. I wanted to be Jimmie Vaughan. He was a big influence on me and I still try to be Jimmie Vaughan from time to time. I have realized it's impossible. I don't waste much energy there. Also, I realized it's not a goal worth pursuing. I'm a big fan. From my Columbia days, "Let Me Love You Too", "Work Out", and "Nice and Naughty" are indicative of him. I'm usually jamming and doing my best Jimmie Vaughan imitation. He blew my world apart.

As far as others I like Freddie King, Albert King, Gatemouth Brown, Albert Collins, Hound Dog Taylor, Elmore James, Lil' Ed, and Muddy Waters. I just did a blues festival in Lancaster with Lil' Ed & The Blues Imperials. He's great. One of my favorite Muddy Waters albums is 'Unk in Funk.' It's not very popular and I have no idea why. I love that album. One of my all-time favorites is Junior Wells. He is so scary and legit. When he is on you can't top him. This is where I am coming from.
Did you write "I'm Not Your Man"? Did you immediately know it was a hit? How did this song launch you?
I wrote it with a woman named Marcy Wagman who had a Nashville pedigree. I didn't know her before we started writing. I learned all of the rules they have down there and they have a lot of rules. You can't do this, you can't do that, which is great because she taught them to me. I came in with the nexus of the song, but she helped me polish it. That's a good song. I didn't know it would be my most popular song. The obvious is not obvious to me.
What elements make your music? Any zone like musical states while performing?
We had a good gig the other night with The Little Kings. The Columbia records are cool, but the Kings records are more fun. The Young Rumblers are working on a new album now. When I play with The Little Kings I am much more likely to get into the zone. When you are doing your radio songs it's different. I was talking to my wife and she said you are more yourself with The Kings than with The Rumblers. With The Rumblers I just want to give the audience a hug for being there. They spend all this money and stand around waiting for us to come on and you have to play the songs. I just want to play the songs. With The Rumblers the band is not rough and ready. With the Kings everyone will follow whatever I do. They just have to get the key and the feel and we will go. Getting in the zone is a lot like anything else.

How elusive is recording in the zone. It's luck. Sometimes the demo is better than the record. There is a lot of luck involved, but I will say on my end mental preparation is really good. I try to be mentally prepared when I have a gig. I don't put myself in the car and go to the address. For me the performance starts the minute you drive into the parking lot. They are looking at you like this is the dude that we are paying to watch. They're thinking is he a dick or is he cool? Is he nice? Is he happy? Is he a jerk? Is he depressed? From the moment I drive onto the parking lot my body language is putting things out. I am always better when I am talking and playing. I need to talk. Also, I have to put a little thought into my sound. Sometimes you get lucky. Sometimes there's no thought. I can increase my odds of having a transcendent show by being mentally prepared and honoring the audience before I even get there.
Who's your favorite artist that you played with live and why?
There are so many. We toured with George Thorogood, Chicago, Colin James, Robert Plant, Dickey Betts, David Bowie, and Rod Stewart. Not too many straight blues guys. We played with Buddy Guy in Belgium. Mink Deville was on that show.

My favorite has to be George Thorogood or Chicago. Chicago has a lot of easy ballads, but when they break out the 70's stuff they will blow your mind. They were sweet as pie. I liked them when I was a kid. Thorogood's music is one quarter of the experience. I imagine he is still doing it pretty good. He's the best live. I learned so much from him. When I was 20 years old I joined a band called Rocket 88. Mark Kenneally played harmonica. They call him Dr. Harmonica. He learned the blues with George Thorogood. George is the greatest performer and has a huge bag of tricks. He uses every one of them every night. Everything funny that he has ever said onstage has been catalogued. He uses that every night. He moves like a dancer. He's just unbelievable. I haven't seen him in a while. To me, he is tough to beat.
Could you talk about your 1969 Guild X500? Where and when did you get it? What does it mean to you? How'd the knife carving signatures start?
That is a blues thing to get autographs on your guitar. I have seen other people do that. I think the first one to autograph it was Dickey Betts. I have a lot of autographs on there. They only go on if you are really cool.

I bought that guitar when I was in 10th grade. I wanted to play jazz. During my first guitar lesson the teacher said who do you want play like and I said Frank Zappa. That still cracks me up. He turned me onto Pat Martino during my first lesson. Also, we both agreed we liked George Benson who is cool. His album 'Breezin' was out at the time. Pat Martino blew my mind. Pat is my number one jazz influence. I saved up my money and bought that guitar from a guy around the corner for $500 when I was in high school. It was so beautiful and pristine. I played a lot of blues on it and some Chuck Berry. The guitar has a sweet neck and great tone. I have never seen another one that's as good.

Guitars are like people. They are all unique. That guitar just had something. Maybe it was old enough and they made it right. I bought another one as a backup and I have seen other ones here and there. None of them are as good. I met one guy who used one and played through a Super. He was a real player. He played through a Super just like I used to. His and mine are the only good ones I have seen. This isn't a starter guitar that I would recommend to anyone. Mine just happened to be real cool.
What are you currently working on? Is there anything else you want to achieve?
There is a lot of stuff that I want to achieve. It is amazing to hear myself say that because for a long time I didn't feel that way. I am working on an album with The Young Rumblers which is pretty cool but also a major pain in the ass. Everybody's schedule is brutal. It is taking forever. It's fun being with those guys. We are really like brothers and have been through a lot together.

On the new record I am using the acoustic guitar and there will be a few guitar solos and a couple rootsy bluesy things. There will be some interesting things if you are a guitar picker. I am still playing my early 70's telecaster. I am also using a guitar that a friend of mine made called a J Guitar. I am borrowing some acoustic guitars. I am playing through an Allessandro Working Dog. It's a nice boutique high end amp. I love amps. I like amps better than guitars. If I collect something, I would rather collect an amp. They are so cool.

As I get older, I am interested in authenticity. I want to see how close to the bone I can get. I want to see how real to the heart I can get. I want to see how real of a song I can write. I am still chasing that.
*Feature image courtesy of Spotify