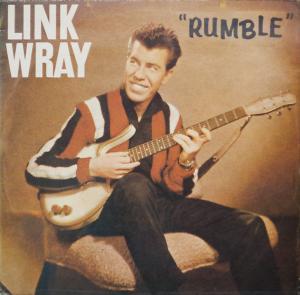 60 years ago, legendary guitarist Link Wray released his influential instrumental song "Rumble," and changed the face and sound of rock and roll forever. The song has now been inducted into the very first class of Rock & Roll Hall of Fame's Singles.
This marks the first time The Rock & Roll Hall of Fame has honored songs in addition to artists, and "Rumble" was immortalized alongside five other singles. The other inductees are "Rocket 88" by Jackie Brenston and his Delta Cats (1951), "The Twist" by Chubby Checker (1960), "Louie Louie" by The Kingsmen (1963), "A Whiter Shade of Pale" by Procol Harum (1967) and Steppenwolf's "Born to Be Wild" (1968).
The singles were chosen from acts who are not members of the Rock Hall – yet. It doesn't mean that they will not someday be inducted.
"We all know the history of music can be changed with just one song, one record," said Steven Van Zandt when introducing the inductees. "In three minutes we suddenly enter a new direction, a movement, a style, an experience. That three-minute song can result in a personal revelation, an epiphany that changes our lives."
"Rumble" became a flash point for countless musicians including Rock & Roll Hall of Fame inductees Neil Young, Bob Dylan, Pete Townshend, Jeff Beck and Elvis Costello. The song was banned in New York, Boston, and Detroit, for fear it would incite juvenile violence, making Wray the only artist in history to have a banned instrumental.
"Very happy to see Link Wray's 'Rumble' get its much deserved recognition by the Rock & Roll Hall of Fame," said Dan Auerbach about the induction. "It's a song that changed everything and influenced all that came after it. It's now time for that impact to be fully recognized and for Link to be inducted to the Rock Hall as an artist, where he always belonged."
Auerbach's label, Easy Eye Sound has released "Son of Rumble," Link's intended, but never released follow-up to the song that introduced the world to power chords and intentional distortion. "Son of Rumble" is a never before released track from the Link Wray archives, and the song, along with b-side "Whole Lotta Talking," was released on 7″ vinyl April 13th.
What do you think of this list of First Class songs? What songs would you like to see inducted? Let us know in the comments.
*Feature image courtesy of Q Prime Artist Management