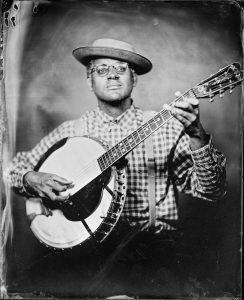 Dom Flemons has always been one to answer the call of his spirit. Throughout his odyssey of self-realization, he crosses bridges as he encounters them, and always remains true to the journey his soul prods him to continue.
The Grammy Award winner and co-founder of the Carolina Chocolate Drops is often referred to as "The American Songster" as his body of work spans almost a century of African American music including songs and so much more. Flemons is also highly regarded as a scholar, collector and historian. A multi-instrumentalist, he plays guitar, banjo, harmonica, and fife with equal verve and expertise.
Flemons' newest work is Black Cowboys, an album of reimagined traditional songs alongside original compositions out TODAY on Smithsonian Folkways Recordings. These 18 tracks allow listeners to experience a fascinating aural terrain laid out before them that includes everything from string blues to square dance tunes, and even "cowboy poetry."
Today we are proud to premiere "Steel Pony Blues" from the Black Cowboys album.
Flemons says of this song:
I wrote this song about the amazing life of Nat Love, known as 'Deadwood Dick.' In 1854, he was born into slavery in Tennessee, and at a young age he made his way out West to work on a ranch in Holbrook, Arizona. By 1890, he retired from the ranch and began to work on the Denver and Rio Grande Western Railroad as a Pullman Porter.

In his 1907 autobiography he wrote: 'I always say to the traveling American, "See America"… I have seen a large part of America, and am still seeing it, but the life of a hundred years would be all too short to see our country…' I feel honored to have followed in the footsteps of Nat Love, in his great admiration for the United States.
Learn more about Black Cowboys at Smithsonian Folkways Recordings
*Featured image – by Timothy Duffy