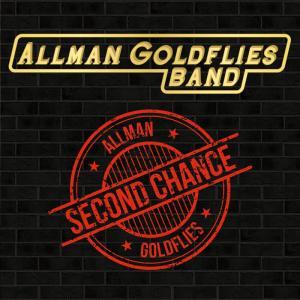 The musical genres we know and love have distinctive sounds. Lightning guitars and screaming harp declare Chicago blues. Memphis soul oozes with the sound of Hammond organs punctuated by earth shattering vocals. Southern Rock melded these and added country spice, swamp water, and long form jams. The debut album from the Allman Goldflies Band, Second Chance, nailed that definition squarely between our ears.
Allman Goldflies Band is Florida born Southern music, bred in the tradition of the founders, with a pedigree to prove it. Gary Allman (keyboards, guitar, vocals) is a cousin of Gregg and Duane Allman. Raised in the South he cut his teeth on blues and rock from B.B. King to Alan Collins, studied guitar with Toy Caldwell of Marshall Tucker Band fame, and is a co-founder of the group.
Allman's long-time friend David Goldflies (bass, violin, vocals) has spent most of his life in the Sunshine State. A veteran member of Ram Jam, Dickey Betts & Great Southern, Allman Brothers Band and BHLT, he composed or co-wrote every track on Second Chance.
Other original members include Chicago-born, jazz influenced guitarist Joe Weiss, and Mississippi native drummer Shawn "Shack" Shackelford. The newest member is Matt Siegel, a guitarist who came to the group from New York City via a 20-year detour in Texas, and has played with everyone from Robert Randolph to Ray Wylie Hubbard.
Second Chance opens with "Ever Been So Lonely Baby." It's a true 12-bar blues tune with Southern flair. The harmonizing guitar work adds a taste of the South to a song that would be as much at home in a Chi-Town club as in a gator country roadhouse.
"Standing in the Georgia Rain" is a ballad of redemption. Allman plays acoustic guitar, and provides a gritty, emotional vocal that drips from the speakers like raw molasses. Up next is "Southern's All I Ever Want to Be." Written by Goldflies and C. Menfi, it's a fun song with a definite nod to "Jessica" and other classic two-or-more-guitar jams.
The band brings the funk on "Can't Turn Back Now." Driven by Goldflies' groovy bass over a jazzy backdrop, it's sure to fill the dancefloor wherever they play live. We may be showing our age, but it's nice to hear some cowbell again too.
Next up is "Fadiddle." What begins as a Cajun flavored dirge soon kicks into a 5th gear, just on the edge of bluegrass instrumental with additional electric guitar. Composed by Goldflies who played violin before taking up the bass at age 14, this one will make both Mr. Daniels and the Devil proud.
"Baby Show Me How" is a country tinged ballad. The powerful lyrics of love are accented by some outstanding slide guitar via Allman. "Pretty Green Eyes" brings the story of a road-weary musician to life. Allman Goldflies Band takes us to church with "When Jesus Calls," a Gospel tune written in honor of Allman's mother that adds a full choir to the mix.
The final two tracks are ballads of the first order. "Yesterday's Blues" combines mournful lyrics with optimistic guitar solos. Second Chance closes with "You Gave Me Love." A soulful, old-school ballad, it features the final performance of Luther "Blue Lou" Wamble. Wamble, a Southern gentleman and native of Mobile, Alabama was a long-time blues guitarist who toured the world as a sideman for Clarence "Gatemouth" Brown. Although he passed away last summer, his artistry lives on via "You Gave Me Love."
The amazing chapter of the American Songbook written South of the Mason-Dixon is alive and well. Producer James Fairs said, "Allman Goldflies Band hold a card in one of the best decks around." Yes sir, and it's an ace!
Artist: Allman Goldflies Band
Title: Second Chance
Label: Allman Goldflies Records
Release Date: March 12th, 2018
Running Time: 40:58
*Feature image courtesy of EXI Entertainment