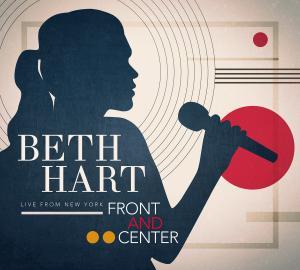 Provogue Records/Mascot Label Group is out today with the Beth Hart CD/DVD release Live From New York – Front & Center. On March 7th, 2017, GRAMMY-nominated songstress extraordinaire Beth Hart performed an intimate concert at NYC's Iridium Jazz Club showcasing songs from her latest album Fire on the Floor and from throughout her career. The performance is also featured on the Season 8 premiere episode of Public Television's critically acclaimed concert series, Front and Center (airing now, check local listings).
Known for her visceral, soul-baring vocals and dynamic range, Hart is riding a creative
tidal wave following the release of her critically acclaimed 2016 studio album, Fire On the Floor, as well as her just-released studio collaboration with guitarist Jon Bonamassa, Black Coffee. Recognized as one of the great vocalists of our time, she has conquered Billboard's Blues Album Chart and received numerous GRAMMY and BluesMusic Awards nominations.
Hart made a name for herself with a fistful of hit albums through the '90s. She has reignited in the post-millennium as a solo artist and standout vocalist for guitar heroes like Joe Bonamassa, Slash, and long-time friend and collaborator Jeff Beck. But it's in recent times that Beth has truly blossomed, selling out ever-larger venues in cities around the world, including New York, Los Angeles, London, Paris, Berlin, Milan, Amsterdam, and Copenhagen.
Live From New York – Front And Center will be released as a 2-disc DVD/CD set, and mixed in 5.1 stereo. It features never before seen bonus material, including an exclusive interview with Hart. The audio from the performance will also be sold separately as a digital release. Don't miss out on these thrilling performances!
— Track Listng —
CD:
01 – Let's Get Together
02 – Baddest Blues
03 – Jazz Man
04 – Delicious Surprise
05 – Broken And Ugly
06 – St. Teresa
07 – IsolaBon
08 – Tell Her You Belong To Me
09 – Fat Man
10 – Love Gangster
11 – Leave The Light On
12 – As Long As I Have A Song
DVD:
01 – Let's Get Together
02 – Baddest Blues
03 – Jazz Man
04 – Delicious Surprise
05 – St. Teresa
06 – Tell Her You Belong To Me
07 – Fat Man
08 – Leave The Light On
09 – Can't Let Go
10 – As Long As I Have A Song
*Beth Hart Featured Image photo by Jim Belmont