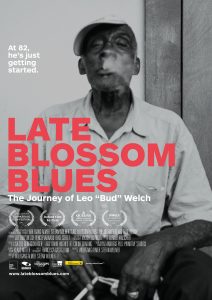 We have all heard the stories of those few fortunate souls who were late bloomers and went on to enjoy success in their later years. Morgan Freeman didn't become seriously acknowledged and recognized until he was 52. Toni Morrison? It didn't happen for her until she was into her forties. Soul songstress Bettye LaVette enjoyed success at the tender age of 16, but she would not know it again until she was 59.
Imagine doing something that is your passion all your life in your spare time and then at 81, being able to take that passion to the limit. Leo "Bud" Welch released his debut album Sabougla Voices in 2014 and the blues world wondered where he'd been for all these years.
Welch had been given a chance at 81 years old, and he made the most of it. Directed by Wolfgang Pfoser-Almer, Late Blossom Blues is a feature-length documentary about the bluesman and his very late rise to stardom. The documentary follows the journey of Welch enjoying his passion for music and enjoying his late-found success and appreciation. It shows how Welch and his friend and manager Gulf War veteran Vencie Varnado navigate the trials and tribulations of all that is involved with arranging, traveling to and performing shows at his advanced age. The documentary also gives a heartwarming portrait of Leo's small hometown Bruce, Miss., where Leo's daily life is still untouched by his late global fame.
Late Blossom Blues will be released in the U.S. on DVD through San Rafael, Calif.'s City Hall Records, with an in-store street date of April 20, 2018. Amazon will stream the documentary on that date as well.
Director Wolfgang Pfoser-Almer says of Late Blossom Blues, "Throughout filming and editing, we realized that even though the story of Leo's late success is incredible, what's even more amazing is Leo's good-hearted, down-to-earth character. So we structured the movie more and more about Leo himself and less about his story, though it of course
still plays an important part in the movie.

"I believe we created a movie that provides many insights into black America and the still very much existing blues world. It also tells the story of a poor black man who never wavered from his dream to be a musician. And that's what we're hoping to remind our audience: With passion and patience, it's never too late to live your dream."

In the documentary, the following never-before-seen video depicts a slightly younger (certainly more posturally upright) Leo "Bud" Welch singing his signature "Praise His Name" in church, circa 1985. Few outside of Bruce, Miss. have seen Welch as a younger man, so this is a find. Wisely, the documentary filmmaker kept it to himself until now…
*Leo "Bud" Welch featured image is courtesy of director Wolfgang Pfoser-Almer and Let's Make This Happen Productions