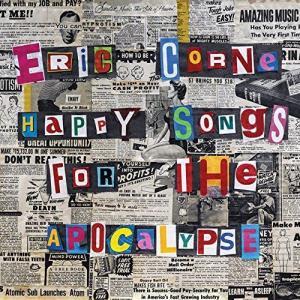 Award winning engineer, producer, songwriter, and artist Eric Corne is set to release his newest offering, Happy Songs For The Apocalypse, on April 20th. The album comes out via his own Forty Below Records label.
Corne wrote all twelve tunes on Happy Songs For the Apocalypse as well as providing lead vocals, and playing a fistful of instruments. One of those songs is the metaphorical "Pull String to Inflate."
"'Pull String to Inflate' sort of uses the metaphor of a life raft because right now it feels like the world is sinking," Corne told us. "I think the song is really summed up in the lyric 'It seems like the future is running a little late. I'm driving backwards through a different day. Pull string to inflate'."
Corne produced, engineered, and mixed the album, but it's far from a one-man show. On "Pull String to Inflate," an assembly of first-rate musicians lend their talents.
"I thought the record was done but felt that 'Ridin' with Lady Luck' (Featuring Walter Trout) needed a partner in crime, so I decided to add, 'Pull String to Inflate,'" Corne says. "I recorded the drums with Matt Tecu (Cat Power, Jakob Dylan, Janiva Magness) at the end of the last day of tracking Sam Morrow's 'Concrete and Mud.' I played the rhythm guitar and bass and then had Rick Holmstrom (Mavis Staples) play the lead guitar. I had worked with Rick and his band-mate with Mavis, Stephen Hodges (Tom Waits) while I was the head engineer at Mad Dog Studios. Hodgie is a friend and played on my last record and I had just asked Rick to play on Karen Lovely's record and he was so incredible, I had to find a spot for him on my record! Skip Edwards (Dwight Yoakam, Flying Burrito Brothers) plays the Vox Organ."
"Pull String to Inflate" – Lyrics
I went to bed last night
I was feeling all right
Thought I'd seen the light
Next day I woke up late
In an altered state
Drank the kkkool-aid
It seems the future's running a little late
I'm driving backwards through a different day
Pull string to inflate
Where do you get your news
Do you pick and choose
Do we have a clue
Time after time after time
Hearing the same old lies
Towin' the party line
You choose your color or choose to play it safe
Rub folks the wrong way they get a little chafed
Pull string to inflate
I'm marching in the street
To a different beat
Ah, with two left feet
And someone just pulled the rug
Out from my feet
I fell back in my seat
It seems the future's running a little late
I'm driving backwards through a different day
*Feature Image Courtesy of REKRoomMedia