Dickey Betts will launch his comeback tour next month. Two days prior to his official Macon, Georgia comeback show on May 17th, Betts will be performing a special "live rehearsal" at the White Buffalo Saloon in Sarasota, Florida. The 74-year-old Betts has lived in the Sarasota area for most of his life, and still calls SRQ home.
"Everywhere I go fans keep saying they want me to get out and play again," Betts told the Sarasota Herald-Tribune in December. "I think the time is right."
A founding member of the Allman Brothers Band, Betts played his final show with them in 2000. He was quick to reform his band, Great Southern, with son Duane Betts on guitar, but formally called it quits in 2015. Shortly after attending the funeral of Gregg Allman, Betts made the decision to get back into music. With the exception of "Jaimoe" Johanson, Dickey is the last surviving founding member of ABB.
Dickey Betts was inducted into the Blues Hall of Fame with the Allman Bros in 1995. He also composed the instrumental song, "Jessica," which won the band a Grammy in 1996. Other hit songs composed by Betts include "Ramblin' Man," "Blue Sky," "Southbound," and "In Memory of Elizabeth Reed."
Betts' band is compromised of Duane Betts and Damon Fowler on guitar, Pedro Arevalo on bass, and Mike Kach on keyboards, along with drummers Frankie Lombardi and Steve Camilleri. Scheduled tour stops in include Florida Jam on May 19th, Great South Bay Music Festival on July 15th, the Beacon Theatre on July 18th, Peach Music Festival on July 19th, Ridgefield Playhouse on July 20th, and St. George Theatre on July 21st.
Duane Betts is currently touring with the Devon Allman Project, who will be performing at several of the same shows.
Advance tickets to the very intimate "live rehearsal" show in Sarasota are available now. Although they will be slightly higher at the door, we wouldn't count on any being available. This hometown show by a Rock and Roll Hall of Famer and Grammy winner is sure to sell out.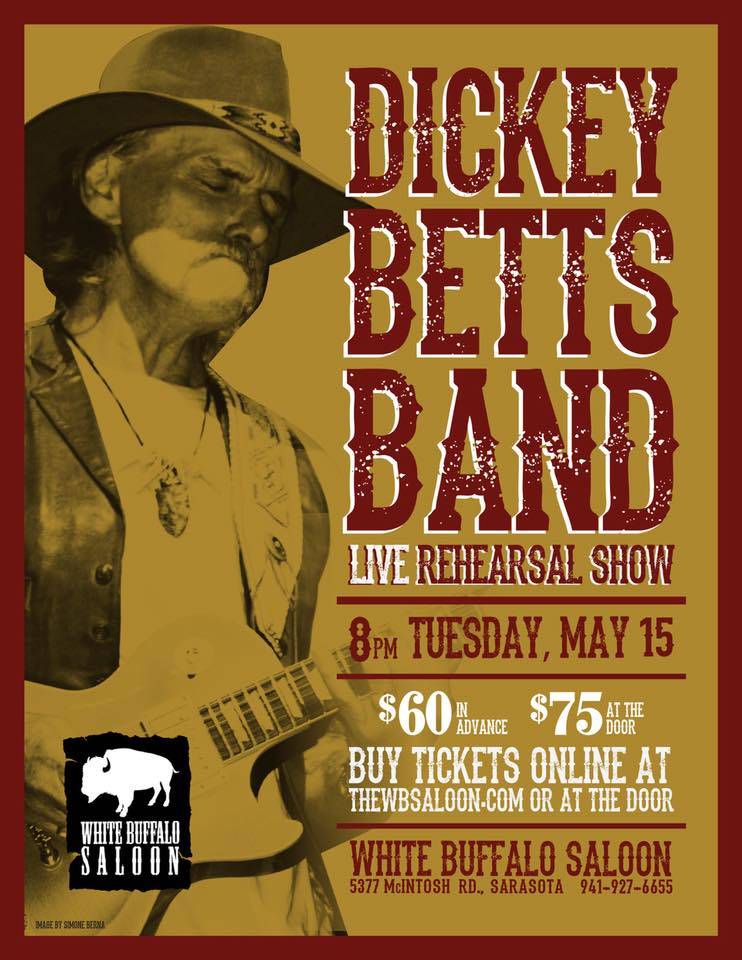 *Feature image Simone Berna