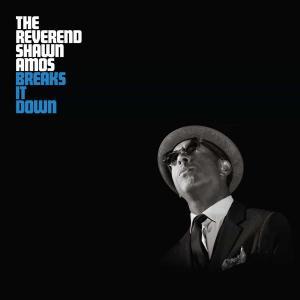 Like the blues, The Reverend Shawn Amos' sound has evolved over time. Key points in his life have triggered changes in his style, his music, and his outlook on the world.
February 16th, 2018 marked the date Amos released his album, The Reverend Shawn Amos Breaks It Down.
"This album was born while on tour through the American south during the spring of 2017," Amos reflects. "Driving through Tennessee and Alabama, I was reminded of my color, my otherness. I was drawn to how we pull ourselves apart while needing each other so badly. I revisited the freedom songs of The Staples Singers while visiting the ghosts of Birmingham and Memphis. Time stands still and life marches on."
With an ear for "21st Century Freedom Songs," and an appreciation of those songs from the Civil Rights Movement, he began the album with the song, "Moved."
Recorded at the world famous FAME Studios, "Moved" is a haunting piece. The song features Amos on vocals and harmonica, Chris "Doctor" Roberts on guitar, with Sharlotte Gibson and Kenya Hathaway adding subtle, yet evocative backing vocals.
"I wanted to create something that evokes a man alone with his thoughts, demons, and dreams," the good Reverend told us. "It's a meditation on conscience."
*Feature image Beth Herzhaft