St. Petersburg, FL – Sundays are always an interesting experience at the Tampa Bay Blues Festival. Sometimes they are designated theme days, such as a celebration of the music of The Big Easy, or maybe just a look at some up-and-coming younger artists making a name for themselves. This year's Sunday seemed to be about just having fun.
Friday and Saturday's lineups featured the likes of Robert Cray, Beth Hart, John Nemeth, Buddy Guy, Ronnie Earl, Janiva Magness, Eric Gales and more! There was great anticipation for Sunday's lineup which boasted Tad Robinson, Band of Friends, Mississippi Heat, Sugaray Rayford, and Delbert McClinton.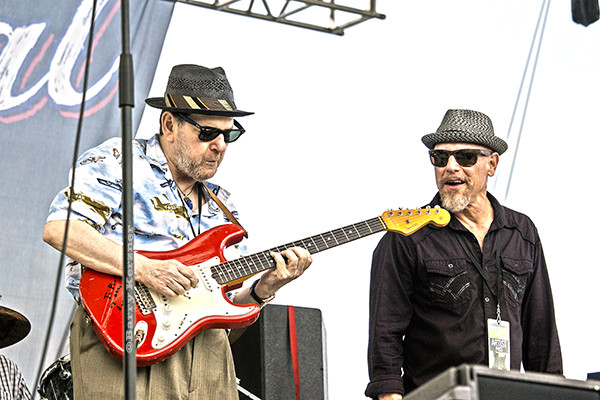 Tad Robinson was up first and greeted the still arriving fans with an inspired set. Obviously a practitioner of the adage "Doesn't matter if there is ten people out there or ten thousand, you give them your best," he and his stellar band threw down hard.
Robinson had the crowd in the palm of his hand as he laid down soulful ditties with his trademark weary-traveler-on-the-road-of-experience vocals on classics like "Nickel and a Nail" and "Rained All Night." Ronnie Earl joined the band for "What Love Did to Me," and everyone was lifted up a bit and gave even more, delivering a performance that had folks shaking their heads. Even at that, the high point of the set came as Robinson and company delivered an impressive performance of "You Were Never Mine" that left everyone feeling gratified.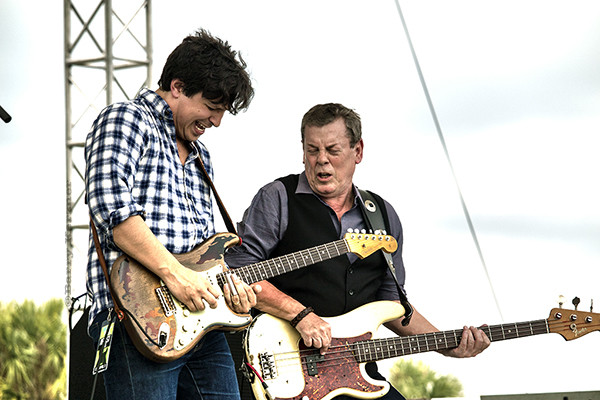 Next up was Band of Friends consisting of guitarist Davy Knowles, bassist Gerry McAvoy, and drummer Ted McKenna. These talented gentlemen were here to honor the memory of the great Irish rocker Rory Gallagher by recreating his work so we could experience what it was like to have seen him perform. Both McAvoy and McKenna had played with Gallagher, so naturally Knowles was thrilled to be able to share the stage with them. "It's like a dream come true."
From the opening note, these gentlemen hit the gas and then, they ventured into overdrive. There wasn't a single soul in the crowd left untouched or unmoved by the honesty and intensity served up by the band. Knowles was channeling Gallagher and was right there on the knife's edge of having the Irish rocker himself burst forth from the guitar. McAvoy and McKenna were right there with him, holding down the pocket in fine fashion.
Jaws were dropping as the fellas went through the likes of "Messin' With the Kid," "Do You Read Me," "Keychain," and more. They moved from one song to the next leaving ashes and debris in their wake. It was beautiful! They also played one of Knowles' own, "River Bed," which was appreciated by the crowd as well.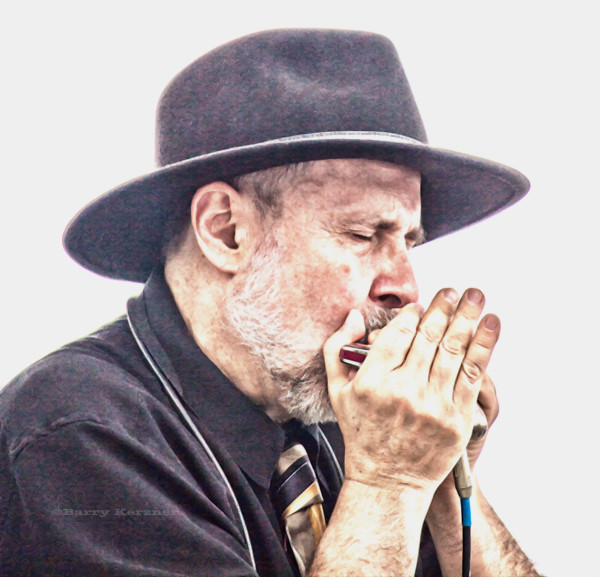 Mississippi Heat has been a mainstay of Chicago blues with its unique sound that often combines the best of Memphis soul, jazz, swing, big band, and of course, Chicago blues. For over 27 years they have brought their liberating sounds and passion to music lovers the world over. They consistently feature virtuosos including founder and harp player Pierre Lacocque, and Michael Dotson on guitar, along with stellar players such as bassist Brian Quinn, and drummer Terrence Jones. With premiere vocalist Inetta Visor recovering from an illness, they were joined by Carla Stinson on vocals.
Right away everyone realized they were in for a treat as the band's groove was irresistible! Set highlights included boogie number "Dance the Night Away," and "Cab Driving Man" that featured solos by Lacocque and Dotson. The pair also soloed on "You Don't Mean Me No Good" and performed a Michael Dotson composition, "Last to Go." And how could the crowd not be won over by stunning renditions of "Handyman" and "Honest I Do"?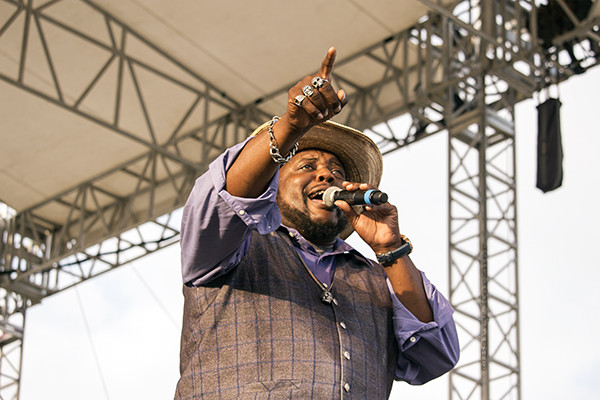 Sugaray Rayford was off the chain. He was not going to let the crowd stay seated, and he had them up, moving and grooving. He threw every ounce of oomph he could muster at the crowd throughout his set, tapping deep into his seemingly endless reserve of contagious passion. Of course, throwing love beads out to the crowd didn't hurt.
With songs like "Blind Alley" and "Big Legged Woman" he and his Boneshakers had the crowd right where they wanted them. Then, as the band delivered stunning versions of "Born Under a Bad Sign" and "I'll Play the Blues for You," Rayford walked through the crowd. He also performed "Cold Sweat" telling everyone that he was bringing "a little uptown and a little downtown" to it, which he did indeed. The cherry on top was his stirring presentation of Little Milton's "Grits Ain't Groceries." He'd brought a plateful of Texas with him, and the crowd ate it up. Being the talent he is, he left them hungry for more.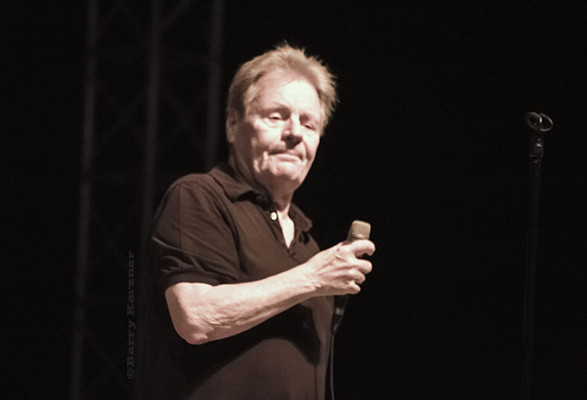 Delbert McClinton is a bonafide legend around the world. In Texas, he is among the state's beloved and elite artists including Willie Nelson, Joe Ely, Guy Clarke, Lyle Lovett, and Billy Joe Shaver. Given that, the assembled guests were recovering their bearings after the rousing Sugaray Rayford set and settling in for time with their friend and troubadour. The elite Texas storytellers we mentioned all share one thing: They are the premiere conveyors of life and love through song… and Delbert proudly stands among them.
Delbert delivered an almost intimate performance. His voice is a little weathered with the passage of time but still full of conviction and empathy for the human condition. "Take Me to The River," "Blues as Blues Can Get," and "Coming On Strong" were welcome old friends; familiar and comforting. The hits just flowed. "Linda Lou," "Starting a Rumor" and "People Love to Talk," were welcomed as well. Delbert dropped in some of his famous harp playing to ice the cake, and everyone loved it. There was "Can I Change My Mind," "Have a Little Faith in Me," and more. It was reassuring to see a beloved old friend still doing what he loves. We are oh so thankful he is still treating us to his songs and their stories.
We can't wait to see what the Tampa Bay Blues Festival has in store for us next year!