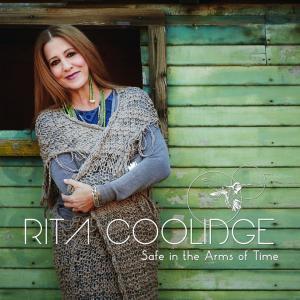 The "Delta Lady," Rita Coolidge will be releasing her 17th studio album, Safe in the Arms of Time on May 4th, 2018.
The Blue Élan label release marks the first new music Coolidge has recorded since the tragic death in 2015 of her beloved sister, Priscilla, a recording artist and member of Walela, the Native American trio she and Coolidge founded with Priscilla's daughter, Laura Satterfield. The recording of the album also coincided with Coolidge's relocation from Southern California to a new life in Tallahassee where in the 1960s, as an art major at Florida State University, she discovered her true calling as a musician.
Coolidge's remarkable history took flight during the heyday of the '70s L.A. music scene when she sang backup on Stephen Stills' "Love the One You're With" and Eric Clapton's "After Midnight." Astute music fans are well aware of how she contributed the classic, and uncredited, piano coda to Derek & the Dominoes' "Layla."
On Safe in the Arms of Time, Coolidge offers a roots record based on her own roots. She took an active songwriting role as well as bringing in the writing talents of artists including Keb' Mo', Stan Lynch, Jill Colucci, Chris Stapleton, and Graham Nash. "I've written so many songs assuming a role like an actor, but this time I got to write from experience," Coolidge said. "This is the best record I've ever done. I'm extremely proud of it."
Safe in the Arms of Time begins with "Satisfied." The opening lyrics, "Life is a winding road," sets the theme from the very beginning. The country/folk flavored opener gives way to the blues rocker, "Doing Fine Without You." Written by Nash and legendary drummer Russ Kunkel, "Doing Fine" has been on the shelf for over two years, waiting for this vehicle to bring it to the world.
Coolidge and producer Ross Hogarth gathered an all-star group of musicians for this project. Guitarist Dave Grissom, bassist Bob Glaub, keyboardist John "J.T." Thomas, and drummer Brian MacLeod all lend their respective talents. Safe in the Arms of Time was recorded at Sunset Sound in Los Angeles, the studio where she recorded her first solo albums on A&M Records 30 years ago. For Coolidge, it was like going home.
Rita gets soulful on "Walking on Water," the first of two songs she penned with Keb' Mo' and Jill Colucci in Nashville. Things get rocking again on "Spirit World," reminding us that Coolidge has never lost her "we can change the world" attitude of the 1960s.
There are some truly bluesy tunes, including "Naked All Night," and the slow-grinding "Over You." Piano driven ballads including "Van Gogh," and "You Can Fall in Love," which Coolidge co-wrote with former Tom Petty drummer Stan Lynch and Joe Hutto, are reminiscent of her classic work while still keeping an eye to the future.
Our personal favorite from Safe in the Arms of Time is "We Are Blood." The combination of acoustic guitars, world instruments, backing harmonies and stellar lyrics took us back to the golden age of folk rock. A very CSNY-ish offering, we hit play on this track several times.
Coolidge recently debuted selected tracks at SXSW in Austin, Texas, and will be hosting a very special record release performance at L.A.'s historic Troubadour nightclub on April 30th.
A 2X Grammy® winner in her own right, Coolidge was at the forefront of the folk/country/rock amalgamation that was the 60s and 70s. Her work with Delaney and Bonnie, Kris Kristofferson, Joe Cocker, Leon Russell, Bob Dylan, Harry Chapin, and more took her from being a "sweet little Indian girl" with exceptional talent to a musical force of nature.
We're more than excited about Rita Coolidge being back in the music scene. Safe in the Arms of Time is her key to a whole new generation.
Artist: Rita Coolidge
Title: Safe in the Arms of Time
Label: Blue Élan Records
Release Date: May 4th, 2018
Running Time: 51:08
*Feature image courtesy of Blue Élan Records