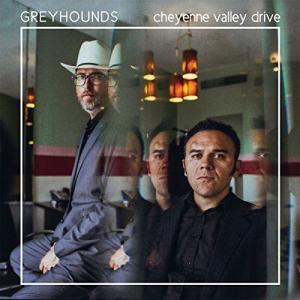 Greyhounds are the Austin,Texas based trio of Anthony Farrell (vocals, keyboards), Andrew Trube (vocals and guitar) and Ed Miles (drums). Music fans remember Farrell and Trube as key members of JJ Grey's band MOFRO for many years. After parting with Grey in 2016 to focus full-time on Greyhounds, the band has only left the road to record and release two full-length records.
The latest of these is Cheyenne Valley Drive, released via the Bud's Recording Service label on April 6th. Greyhounds recorded Cheyenne Valley Drive at the recently refurbished Sam Phillips Recording studio in Memphis. Yep, that studio. The one where hundreds of classic tracks were recorded straight to tape, in a live setting, and released by Sun Records.
Matt Ross-Spang, a Memphis native and acclaimed engineer was at the helm. Steeped as he is in the old school style of making records, Ross-Stang recorded 13 Greyhound tracks over a 3-day period, 10 of which made it to Cheyenne Valley Drive. The boogie-infused "No Other Woman," was one of those which made the cut.
"'No Other Woman' is an upbeat love song you can dance or snap a finger to," says guitarist Trube, who shares vocal duties with Farrell. "A proclamation to the one you love. Recording at Sam Phillips studio, under the constraints of a one-inch eight-track tape machine, made for a more authentic sound, leaving no room for computer trickery. Creating a sound that is honest and real is very important to me and Farrell, and we wanted the listener to feel like they were right there in the studio with us."
Produced and directed by award winner Curtis Pollock, the video stars Bobby Perkins (the most interesting man around town), and several Austin, Texas "couples" amid the muraled city-scape. Rollicking and humorous, this Greyhounds song and accompanying video will be the best part of your day!

*Feature image press photo courtesy of the artist.