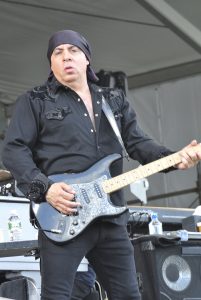 Little Steven Van Zandt will loom large in the week's festivities for the 39th Blues Music Awards.
On Tuesday evening May 8th, he will open the week's festivities with a performance showcasing Little Steven and the Disciples of Soul at the Memphis' Minglewood Hall. He'll also emcee the 39th Blues Music Awards dinner and show on Thursday, May 10th at the Memphis Cook Convention Center in the Grand Ballroom. Joining him are a star-studded group of presenters such as Janiva Magness, Joe Louis Walker, Steve Miller and other well-known performers.
The Blues Hall of Fame Induction Ceremony takes place on Wednesday, May 9th at the The Halloran Centre for Performing Arts. The 39th class of Hall of Fame inductees acknowledges the immense talents and contributions of exceptional musicians: blues pianist and songwriter Georgia Tom Dorsey, savvy guitarist Roebuck "Pops" Staples, and drummer extraordinaire, Sam Lay. The Aces, the brilliant Chicago blues band that set the standard for Chicago blues musicians are also being inducted and will be joined by the first "Queen of the Blues," singer Mamie Smith. A cocktail reception at 5:30 PM precedes the ceremony at 6:30 PM. Unfortunately, registration has closed for this event.
After the Induction ceremony has concluded, all are encouraged to attend Big LLou's 6th Annual Blues Hall of Fame Tribute Jam & Juke Joynt Party at the Warehouse.  This event begins at 9 PM and raises funds for the Blues Foundation and Generation Blues programs.
Thursday's highlights include The Blues Hall of Fame Museum hosting a look at memorabilia of the newly installed 39th class of inductees as well as a meet-and-greet with painter Michael P. Maness whose art is on display in the Legendary Rhythm and Blues Cruise Gallery.
Also on Thursday is an opportunity for musicians to receive medical screening(s) free of charge courtesy of the Blues Foundation's HART Fund on the mezzanine level of the Sheraton Hotel. The Sheraton Hotel is the official host hotel of the Blues Music Awards.
The Blues Music Awards are the main event of the day. They begin with a 5:30 PM reception in the Grand Lobby of the Memphis Cook Convention Center. The ceremony itself begins promptly at 7 PM in the Convention Center's Grand Ballroom and is hosted by Little Steven. Along with the dinner, there will be performances by the award nominees. Taking place in the Grand Ballroom's foyer will be a silent auction. BMA tickets are available to the public and are on sale now — $150 per person or a table of 10 for $1500 here.
Check here for a complete schedule of events.
More BMA Week information here.