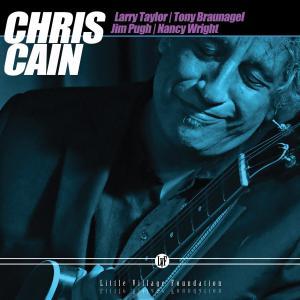 Based out of California's Bay Area, Chris Cain has a dozen albums, and an international following. His powerfully deep vocals and jazz inspired, blues guitar riffs are unforgettable; uniquely his own, while reminiscent of the legendary players of his youth.
Cain's latest eponymous release gathered a group of all-star musicians for an unforgettable session. Larry Taylor (Canned Heat, John Mayall), Tony Braunagel (Bonnie Raitt, Taj Mahal), Jim Pugh (John Lee Hooker, Robert Cray), and Nancy Wright (Lonnie Mack, Katie Webster) all add their incredible talents to the album.
At the upcoming Doheny Blues Festival, the All-Stars gather again to perform with Cain at the helm. Our opportunity to speak with Cain came on April 25th, a date that plays an important role in his life.
JD Nash for American Blues Scene:
You'll be playing the Doheny Blues Festival with the All-Stars, the band that backed you on your most recent album. Whose idea was it to put that group together?
Chris Cain:
I think that was probably Jimmy [Pugh], Kid [Andersen] and the fellas. I had this thing that I had made for my father. Just some tunes that were written in the style that I knew he loved. It was just a love letter to my dad. When Kid came by and heard this thing playing, he said, "You should come by the studio sometime." Well, Jim Pugh was my guest one night at Biscuits & Blues, and when he came to pick me up, he heard it and said, "Yeah, we need to get into the studio with this." They're the reason this whole thing was made. It wasn't ever meant to be a record. It was just something I did.

It turned out to be really great. I've loved Larry Taylor since I was a young person. All the good licks I know on bass I got from him. The fact that he was even in the room was already a big trip for me. Then Tony Braunagel, he's an amazing drummer ok? It was just a lucky thing. It wasn't my plan but, it's been a great thing in my life.
That's not your usual touring band though. Is it just for Doheny that this group is getting together?
Any time they want to get together, I love doing it. When we did the Waterfront Festival Tony Braunegal was doing a thing at the White House that day, which is really cool. Tony Coleman played with us at the Waterfront Festival. Nancy Wright also plays with us. It was the most fun I've ever had recording anything, so any time we can get together to play live, it's a beautiful thing.
With the exception of Larry Taylor, all the members of the All-Stars, including yourself are nominated for Blues Music Awards this year.
Yeah, that's true. When I first came out with my first record I was nominated for stuff. All the folks in these categories are guys that I grew up with, and that I love a lot. I feel that the fact that they listened to this record was enough for me. It's really just an honor to be nominated.
When the All-Stars get together do you normally do a set just from the Chris Cain album, or do you mix it up?
Oh we'll play some other stuff too. The bulk of it will probably be stuff from that record though. Like I said, that was never supposed to be a record. It was just stuff I wrote from my heart. It's like medicine. But when we get together and play it live, it's just a lot of fun. Recording with those guys was just a beautiful thing. It was all done in two days, just ping-ping, ya know? But Kid let me use all these vintage guitars. His place is like the Smithsonian of guitars. It was like the Muscle Shoals of the West Coast man. I had the time of my life.
So that album was recorded at Greaseland?
Yeah, but I told him after that he needed to change the name to "Funland."
I was talking with Tommy Castro a while back and we were discussing how that whole Bay area is turning into the new Mecca for blues musicians.
It's funny to me because I've known Tomàs since we were both kids. We both remember back in the day around here. There was a time when there wasn't anybody who wanted to play blues the way we wanted to play. It seems that over the years it's really developed. I grew up in San Jose, but the scene now is just unreal. But Tommy Castro and I have been pals since we were both playing Top 40.

Going back to Greaseland, after the two days I was there, they had to chase me out with a rifle. I didn't want to leave. I was having a blast in there. The day that I left, Tomàs Castro and his band were coming in to make a recording. Right after that, Nick Moss came in there. All these guys that I totally love. I remember asking Kid if his neighborhood was like guitar land. There's guitars all over the house, and then I see a guy outside the window just walking by with a guitar case. It ended up being Charlie Baty.

Kid is really a big reason behind all this. He's really got something going on there. I mean recording there was one of the best experiences I've ever had. And Jimmy Pugh, those two guys right there have really enriched my days and nights.
I can imagine the stories you guys can tell.
There was this one time – I was recording for a label that was having a "label night" at Buddy Guy's Legends in Chicago. I was on the label, but for some reason they didn't want me to come. Well, it turns out I was in Chicago on that night anyway. So we went to Buddy Guy's to go see the thing. I see Tommy Castro there, and being such a beautiful guy, he calls me up to sit in. You could see a few guys from the label were like "What the hell?". He's a real sweetheart. That guy could write two books just on the whirlwind of his career when it started to take off.
Did you come up seeing a lot of local groups in San Jose?
To tell you the truth, I was locked away in my room for like the first 17 years of my life. I only saw sunlight if somebody made me do it. Otherwise I was just locked away with a record player.
You said your latest album was a love letter to your dad. Was it him that got you into music?
Oh yeah, totally. He was born in Louisiana but he grew up on Beale Street. My dad was a black gentleman. Always in a suit. He'd take me to see everybody when I was little. We'd never miss Ray Charles. We'd never miss B.B. King when he came. My dad was a truck driver, and this was way before the internet, but whenever B.B. King was anywhere in this area, my dad would know. It always amazed me that he knew when B.B. was playing, when there wasn't really any way to find out.

He wasn't a musician, but he loved the blues so much that he got a guitar and he made up a little set of music. On Sundays, he would put his suit on and play his set in the garage. When I was eight years old, he showed me the first thing that I ever learned on guitar. It was like the same time he was teaching me to tie my shoes.

But my dad would always take me see people, and with him being a gentleman in a suit, they just thought he was part of the band. He would just come and go as he pleased. He took me to see Albert King and Freddie King at the Fillmore. He just took me backstage and I got to meet those guys. I was 17 years old, and these guys were like buildings standing next to me. Let me tell you, when you shook Albert King's hand, it was like sticking your hand into a bean bag chair. It was that kind of stuff that I got to be privy to, because dad would take me to do these things.

Another time I remember it was Christmas Day, 1965, and my dad came in and said, "Put your suit on." So I put my suit on, and we went and saw James Brown. It was terrifying but amazing at the same time.

When my dad would be out working on the house, it would be all Muddy and Sonny Boy, and those guys. But when he was getting his groove on, it was B.B., Johnny Watson and these other fellas. Dad was just a beautiful guy. He'd work hard all week, but on the weekends he'd get his groove on. He was just a sweet, wonderful person.
It sounds as if your dad was a major influence on you, musically.
Oh yeah, I've been so lucky, that my dad even had that piece of wood, I swear. I never would have picked up a guitar if it weren't for the shows I saw with him. Just this last year has probably been the most fun I've had playing the guitar since I was about 12 years old. I embrace it all because I really don't know how to do anything else. If you put me in a bank, I'd look like one of the Marquis Chimps. I wouldn't have a clue. I went through my Beatles thing and all that, but dad would always have this other music playing in the house. I started borrowing his records after that, and he'd have to come and find them.
Do you think the blues is alive and well today?
There are probably more people now, in this type of music, than there ever has been. Back in the 70s, for me, finding like-minded cats to play with was a challenge. Most of the guys were playing rock and stuff. When I was a kid I was a nut. I'd be practicing with my band and saying "We're not good enough yet. Look at Freddie King." But then I had to realize Freddie was like 39 years old, and I was 17. I'd be practicing all the time, and once I got it in my blood, I couldn't think of anything else. I'm as much a fan as I am a player.
It's been almost a year since Chris Cain came out. Do you have anything new in the works?
Yes I do. For about the last 8 years I've been working on these little packages of music. There are about 7 of them right now, and hopefully I'll live long enough to get them all recorded. I'll definitely be putting out another album soon, and what I'd really love to do is play some shows with a piano, singing some of these tunes. I really want to do as much musical stuff as possible because I just love to play.

When I get to play for people, whether it's 10 people like in the old days, or whoever shows up to the clubs and festivals now, I take that home with me every night. It's a gift, and it brings me a lot of joy.
I know you're playing at Biscuits and Blues tonight, and it also happens to be Albert King's birthday. Can the crowd expect some extra guitar fireworks?
Are you shittin' me? Oh man. I usually play some of Albert's stuff when I'm on stage, but tonight might be off the chain. That's another guy that I feel so lucky to have known. He was a beautiful friend and always did nice things for me. When he died I couldn't listen to his records for about two-and-a-half years. I couldn't even hear his music without losing my shit. Every time I went to Memphis, he would always come to my gigs. Thanks for reminding me. I've been working on some demos for a new record, and have been so involved with that, I didn't remember it was his birthday. That just made my day better already.
*Featured image Alain Broeckx courtesy of Doheny Blues Festival