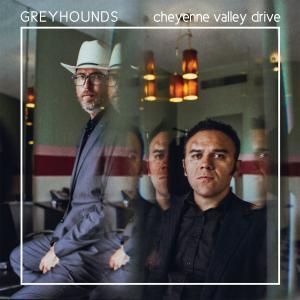 It's challenging for duo-bands, like Greyhounds. At a certain point, with just two members, you run out of textures and sounds and need to get bigger, or risk sounding stagnant. Greyhounds aren't quite there, yet, although they seem to have added touring drummer Ed Miles as a full-fledged member. On Cheyenne Valley Drive they explore a tighter, more mellow sound with more of an emphasis on intensity. The result is a tasteful, soulful album full of great songs and interesting sounds. Even more impressively, they avoid the duo trap of sounding too much like the White Stripes or Black Keys.
The strongest example of Greyhounds' unique sound is "All We Are," with its '70s soul-inspired keyboards (courtesy of Anthony Farrell) and just-funky-enough guitar (courtesy of Andrew Trube). The vocals have a seriousness and depth that's hard to ignore, but just when you think you know what the song is, they go into an Allman Brothers break, complete with organ and guitar soloing. It's a huge sound for such a small band. Farrell's keyboards drive a lot of the album, taking it in various directions.
On "Get Away Clean," a low-key electric piano and a strong drum groove provide a sparse bed for intense vocals. But on "WMD," Trube's guitar anchors the song so that Farrell can lay spacey keyboards over and under the song's sad-yet-pretty melody.
Miles provides solid drums, but the energy is tighter and less funky than on Change of Pace, the band's previous album. It also feels like there's less vocal interplay on Cheyenne Valley Drive, which is a shame because Farrell and Trube have beautiful vocal chemistry. You can hear some of that chemistry on "12th Street," which is practically a doo-wop number. But many of the songs don't have Farrell and Trube singing together like that, which is a handicap because when they do sing with and also against and over each other, it sounds like few other bands.
As Trube and Farrell stretch-out the guitar and keyboards, it makes sense that the drums will have to support things more, but one cannot help but wonder what the music would sound like with more expansive drums less committed to the beat and more interested in having some fun with the guitars and keyboards. Cheyenne Valley Drive has well-constructed songs, amazing vocals, and thoughtful performances. Some looseness and more interplay from the drums, and between the vocalists, could make a great album even better. But Cheyenne Valley Drive is still an album worth exploring.
Cheyenne Valley Drive by Greyhounds
Tracks:            10
Label:              Nine Mile Records
Released:         April 13th, 2018