The music of Memphis can't be pigeon-holed. Blues, R&B, Soul, Rock and Roll, Rockabilly, Jazz, and more all have deep roots in the Bluff City, and the combination is what creates the Memphis sound. Tas Cru understands that concept better than most, and pays homage to the true "music city" in his new Subcat Records release, Memphis Song.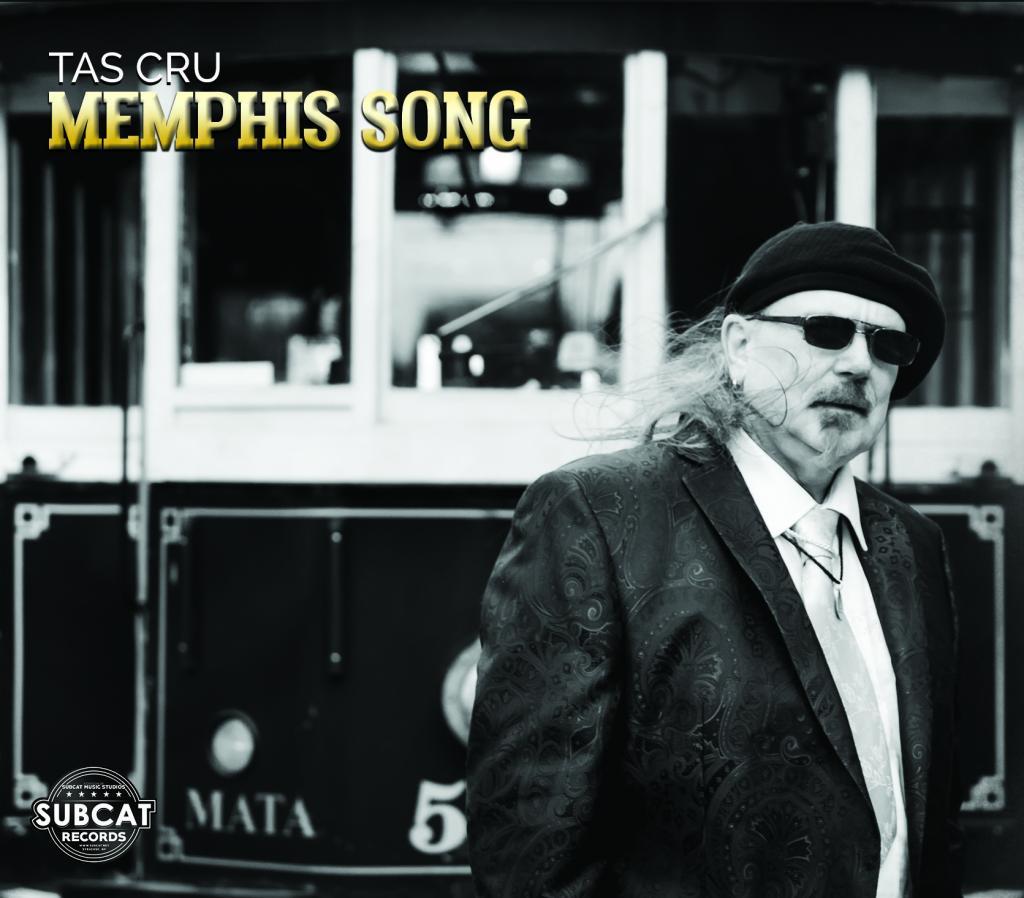 Cru flew headlong into the radar in 2014, with You Keep the Money. It wasn't his first album, but it sure got the attention of blues loving audiences world-wide. Then came 2016's Simmered & Stewed, which saw Tas nominated for Best Emerging Artist Album at the recent Blues Music Awards. Now comes Memphis Song, described as completing a trifecta of Tas Cru's creativity.
Long known as a blues poet, and once called the "master of the triple entedre," Cru pays tribute to his muse, Memphis, Tennessee. He's been infatuated with, and influenced by the music that came out of Sun Records since childhood. That influence, along with those of blues rock and country blues, are evident in his brilliant songwriting. Memphis Song brings us a dozen original songs that touch on nearly every genre.
"Heal My Soul" brings the record to life with a raucous, Gospel-tinged song of inspiration. Cru's backing band is tighter than a preacher's wife's girdle at an all-you-can-eat pancake breakfast. Combining Cru's guitar with Dick Earl Ericksen's down home harmonica is a thing of pure beauty.
Guest artists come out to play on the title track. Four time Pinetop Perkins Award winning piano player, Victor Wainwright, along with Pat Harrington (slide guitar) add to the haunting number. Mary Ann Casale also provides acoustic guitar. The song has Cru calling out to his muse, and Memphis answering. This one provided one or two of those shiver moments.
There are several upbeat, fun-loving tunes on Memphis Song. Some of these include "Fool for the Blues," "Have a Drink," the slightly irreverent "That Look," "Feel So Good," and the album's closer "Can't Get Over Blues." A true raconteur, Cru spins some great yarns on "One Eyed Jack," "Don't Lie to the Woman," and the funkified "Give a Little Up."
Casale has some featured vocals on "Give a Little Up," that makes for a sweet, sweet combination. She is also a backing vocalist on the record along with Donna Marie Floyd-Tritico and Patti Parks. Bob Purdy provides a constant, steady bass line while Andy Rudy tickles the ivories. The must-have Memphis organ is provided by Guy Nirelli, except on "Queen of Hearts," on which Bill Barry takes over. Drums come at us from Ron Keck, Sonny Rock, and Andy Hearn, depending on the song.
Memphis Song takes us home on many levels, and we're sure it will do the same for you. Get yourself a copy and just try to prove us wrong. Bet 'ya a nickel you can't do it.
Artist: Tas Cru
Title: Memphis Song
Label: Subcat Records
Release Date: June 1st, 2018
Running Time: 53:42
*Feature image Sandy Roe