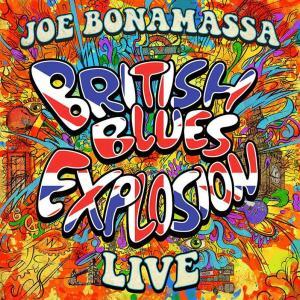 Say what you will about Joe Bonamassa. A child prodigy who grew into his own, he's one of the top guitar slingers in the world. Joe B has both surrounded and immersed himself in the blues. Purists of the genre tend to poo-poo his name, but he's proven himself time and again. His latest release British Blues Explosion Live is further proof, clocking in as his 20th #1 album on the Billboard blues charts.
We all know the story of how at age 12, Bonamassa was opening for the late, great B.B. King. Twelve years later, his first album was released, and he's been a juggernaut since. What one may not know, is that his major influences were not American blues masters as one may assume. Nay nay. The artists that really tripped young Joe's trigger were the British and Irish acts that were supercharging American blues.
On British Blues Explosion Live Bonamassa pays tribute to three of these influences; Eric Clapton, Jeff Beck, and Jimmy Page.
The album was recorded on July 7th, 2016 at the Old Royal Naval College in Greenwich, London, England. Bonamassa made a ballsy move by performing the music of his influences in front of their hometown crowd as it were. Their response? Ecstatic!
Backed by a quartet of stellar musicians; bassist Michael Rhodes (Etta James, Buddy Guy, and nearly every country act in Nashville), keyboardist Reese Wynans (Stevie Ray Vaughan, John Mayall, Ana Popovic), drummer Anton Fig (The World's Most Dangerous Band, Bob Dylan, Beth Hart), and guitarist Russ Irwin (Aerosmith, John Fogerty, Jonny Lang), Bonamassa cuts loose with every fiber in his being.
It all begins with "Beck's Bolero/Rice Pudding." Although Joe B claims he is a "self-loathing slide player," his slide performance is impeccable. He claims that Jeff Beck albums from the late 60s were his introduction to the British blues scene, and he gives them major props here on the opening number.
Other Beck classics covered are "Let Me Love You Baby," where Joe not only tries, but succeeds in hitting those near impossible vocals of a young Rod Stewart, "Plynth (Water Down the Drain," and "Spanish Boots."
The album's second track introduces us to Bonamassa's imagining of early 70s Clapton. "Mainline, Florida" came from the 1974 album 461 Ocean Boulevard, Clapton's first solo album after recovering from a heroine addiction. Although a more overlooked track than say, "I Shot the Sheriff," Bonamassa and company bring out the almost southern rock influences in the track. Joe's vocals are strong and Wynans' B-3 is near psychedelic. Good stuff!
Bonamassa takes on some other influential Clapton tracks including "Motherless Children" from the aforementioned album, and "Pretending" from Journeyman, the John Mayall & the Bluesbreakers tunes "Double Crossing Time," and "Little Girl," as well as Cream's "SWLABR" from Disraeli Gears.
Our favorite track on the album, hands-down, is "Boogie With Stu." It's the most simple song on the entire record. However, you know us. If it makes us dance, we're all about it, and this one had us literally up and boogieing. "Boogie With Stu," is Bonamassa's first hat-tip to Jimmy Page, coming from the Led Zeppelin album, Physical Graffiti. That being said, the song actually comes from the Ritchie Valens hit, "Ooh, My Head," and songwriting credits had to be retroactively added to the Zepp album.
Regardless, "Boogie With Stu," has all the Page-ish guitar one could want, and Wynans pounds those 88s like none other. Page and company get more props with Bonamassa performing their versions of "I Can't Quit You Baby," and "How Many More Times."
Before you say it, yes, "I Can't Quit You Baby," was written by Willie Dixon and first recorded by Otis Rush. "How Many More Times," has influences from Albert King, Booker T, and Howlin' Wolf. We think that's the point. Bonamassa, like many of us, was first introduced to the blues by these outstanding UK based musicians who took classic American roots music and turned it on its head.
If you dislike Bonamassa, for whatever reason, British Blues Explosion Live could very well change your mind. In case you've been living on a deserted island, and haven't heard of Joe B, this album is the perfect starting point. This is the music that first influenced him, and could very well influence you. If you're a fan, then you already know.
British Blues Explosion Live is available on all the most popular music formats, as well as DVD.
Artist: Joe Bonamassa
Title: British Blues Explosion Live
Label: J&R Adventures
Release date: May 18th, 2018
Running time: 1:36:47
*Feature image Marty Moffatt