One of the greatest sidemen in the history of blues music, Matt "Guitar" Murphy died last night. He was 88. Murphy's death was confirmed by his nephew, Floyd Murphy, Jr. in a Facebook post:
Well they say when it rains it pours…i was just told that my uncle Matt Guitar Murphy passed away last night. I can't feel a freaking thing in my body now but I must stay strong cause he was a strong man that lived a long long fruitful life that poured his heart out in every guitar solo he took.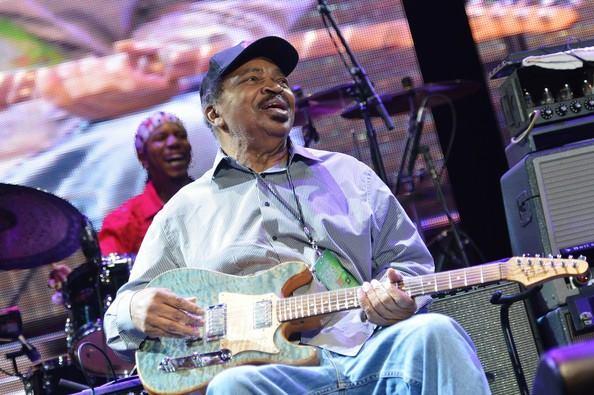 Matt "Guitar" Murphy garnered a huge audience for his work with the Blues Brothers. He recorded on their albums, appeared in both movies, and toured with the band until suffering a stroke in 2002.
Prior to his Blues Brothers gigs, Murphy was a stalwart sideman for artists that included Howlin' Wolf, Little Junior Parker, Bobby "Blue" Bland, Memphis Slim, Chuck Berry, Otis Rush, Sonny Boy Williamson, Etta James, and James Cotton to name just a few.
Matthew Tyler Murphy was born on December 29th, 1929 in Sunflower, Mississippi and moved to Memphis with his family while still a toddler. Matt and his brother Floyd, both made names for themselves as guitar players on the Memphis scene recording with Little Junior Parker and the Blue Flames. Matt Murphy played with Howlin' Wolf as early as 1948 when Parker was part of Wolf's band.
His first limelight stealing performance came in 1963 on the American Folk Blues Festival tour of Europe. As part of that tour which also included Muddy Waters, Lonnie Johnson, Big Joe Williams, Victoria Spivey, Willie Dixon, Murphy broke out a stellar presentation of "Matt's Guitar Boogie."
During much of the 1970s, Murphy was adding his clean, rapid-fire guitar to the James Cotton Band. He even penned the song, "Boogie Thing" for Cotton's 1974 album 100% Cotton.
His character in the Blues Brothers films was that of the beleaguered cook (and later car dealer) husband of Aretha Franklin. Against her wishes, he re-joined the band not once, but twice. During the Blues Brothers days, Murphy shared guitar duties with famed Stax Records musician, composer and producer, Steve Cropper.
In 1990 Murphy released his first solo album, Way Down South, (featuring his brother Floyd on rhythm guitar) for the Antone's label. Other albums followed including The Blues Don't Bother Me, Lucky Charm, and Last Call.
In 2002, Murphy suffered a stroke, but returned to play a reunion show with Cotton at the 2010 Chicago Blues Festival. He also appeared at Eric Clapton's Crossroads Guitar Festival in 2013, along with several other gigs around the country and in Canada.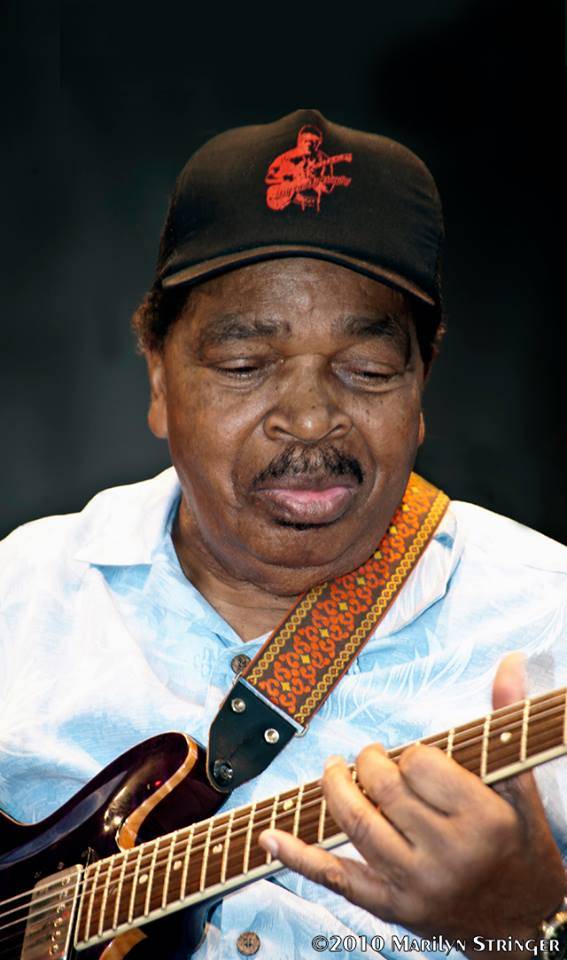 In 2011, Matt married Kathy Hemrick in a private ceremony in South Miami. A month later they celebrated with an "open to the public" reception in Ft. Lauderdale which also doubled as a CD release party for Last Call.
Murphy was inducted into the Blues Hall of Fame in 2012.
Most recently, the guitar man was scheduled to appear with Billy Boy Arnold, Bob Stroger, Bob Margolin, Carl Weathersby, Kenny "Beedy Eyes" Smith, and Clay Swafford at Antone's 43rd Anniversary on July 7th.
This is a developing story and more details will be added as they are known.
We'd love to read your memories of Matt "Guitar" Murphy. Share them by sounding off in the comments below.
*Feature image James Cotton, Noel Neal, and Matt "Guitar Murphy" at the Chicago Blues Festival 2010. Photo: Marilyn Stringer