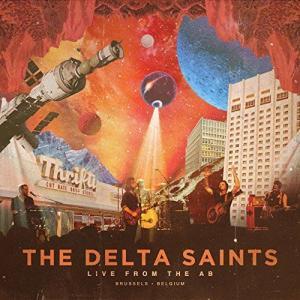 The Delta Saints are an interesting band with a more interesting sound. Rooted in the blues, and roots rock, The Saints come to us by way of Nashville (Johnny Cashville). As I am new to the band and NOT from Nashville, allow me to crib directly from their own Spotify bio, "…formed in 2007 by singer and dobro guitarist Ben Ringel and bassist David Supica, both of who were students at Belmont University at the time. Ringel and Supica teamed up with guitarist Dylan Fitch, and with the addition of drummer Ben Azzi and harmonica player Greg Hommert (then Steven Henner, now Vincent Williams in this role), the Delta Saints began playing Nashville clubs. In 2009 they released the EP Pray On." They've since added keyboard player Nate Kremmer to the mix.
Since that first EP, The Delta Saints have been a band in evolution. This is most definitely NOT a bad thing. Too many bands rooted in the blues or in the alt-country, roots rock scene never let themselves expand beyond the tropes of heartbreak, whiskey, hard nights, long roads, and twangy guitars. Even with a dobro in the mix, The Delta Saints have pushed their sound beyond the blues, beyond roots, and into something that moves between hard rock, psychedelia, foot stompin' boogie-woogie, and almost progressive punk. It's a rich, dense sound that leverages the pipes of Ben Ringel over the top of solid bass grooves, driving drum lines, alternately patient and frenzied guitar jams, and darkly soulful funky organ work.
Since this is a live album to review, it's worthwhile to review the album as a culmination of what's come before it, a live show, AND an album. A three-for, if you will. As with Frampton Comes Alive, A Live One, Live At Pompeii, and all of the other great live albums in history, live albums make a statement of a band's true sound, energy, passion, and "get after it-ness" (my own term).
The album opens with "Cigarette" (off their Drink It Slow EP) – Great opener with strong bass lines over a driving beat. Any chorus that sings "Light me a cigarette, cause I wanna taste your smoke, turn that bottle down so I can feel you choke," sets the tone for a solid album and a great show.
They then follow that up with "Bones" (off their eponymous LP, which marked a hard turn towards prog-infused rock) – It offers a strong thumping groove with a great organ riff on top of it, and a tease of a blues break after the chorus. They show some patience in bringing the song back down to the second verse. Same for the jam, its restrained and in doing so dark and powerful. Fantastic drumming and the organ comes soaring in during the jam, which is electric and sonically rich.
"Berlin" is next, also off the Bones album. This song offers a strong psychedelic jam, almost jam-tronic sounding (for those of you interested, check out Disco Biscuits, Sound Tribe Sector Nine, etc.). Very rich over a fast, driving rhythm. An interesting, eclectic, and fun song.
"Are You" (off a single EP) – Just a straight up rock and roll song with a Led Zeppelin  Stairway-esque solo over an ominous bass groove. A solid rocker batting in the clean-up spot.
"California" (off the Monte Vista LP) – I firmly believe that critics are bullshit. Music is art and completely subjective. All the Lester Bangs of the world can opine all they want on the majesty and misery of albums, but at the end of the day, one person's lemons are another man's lemonade. That said, I think this is a sort of pedestrian rock song.
"Pray On" (off their first EP) – Classic Delta Saints, taking a 5 minute original tune and stretching its legs out past 9 minutes. Really exploring some sonic spaces here, the band locks into a dark, patient groove. Space matters, and there is plenty of space used here. It's a good jam with no clear peak but it bubbles & burns.
"Spaceman" (off Monte Vista LP) – I don't get this song. Maybe it's good, maybe it's a bit of a mess, but it's a live album so if there is going to be a song played after a 9 minute bender of the space time continuum, I suppose this is the right spot for this one.
"Sometimes I Worry" (off Bones LP….see why that album is worth checking out?) – I think the best review I can provide of this song is the actual notes I took while listening: "OH YEAH. Almost psychobilly in its dark dirtiness. Would like to see this one stretched out." Great placement after a short song like "Spaceman."
"Heavy Hammer" (again, off Bones LP) – The album/show are picking back up with this solid, heavy rocker that features a great guitar and bass interplay as well as a fun breakdown & chorus. Clocks in at a tight 3:32. At this point the band is offering up solid, short rock tunes that beg for longer treatments. This continues with their next song, "Dust" (again, Bones LP) which is actually SHORTER on this album than on the original studio version. That confuses me.
"Drink It Slow" (first song offered from their Death Letter Jubilee LP, which is still more blues & roots oriented than their later stuff) – This song kicks some slow, funky ass. It opens with a boogie/funk organ groove that is, as I wrote in my notes, "the shit." This is a great placement on the album, in the show, and in the world as it's a deep, wonderful funk & groove jam.
"Be With You" (Monte Vista) – Nice song, nothing mind blowing, but it brings a strong, driving groove. Again, hard to bring aggressive energy after "Drink It Slow," and it is sort of a placeholder for the next song. Which is….
"Bird Called Angola" (off the eponymous EP) – I love this song and this is a great version that ramps up the energy into the end of the album. It offers a killer drum solo and delivers a foot stomping good time. If you like bands like North Mississippi Allstars, this is a good place to start.
"Butte la rose" (off Bones LP) – In the penultimate spot, this version is much better than what's offered on the LP, which is still good. It's plaintive and desert-sand gritty. Which is slightly better than dessert sand, known to be the worst kind of dessert but the best kind of sand.
The album closes with the straight up dirty rocker, "Death Letter Jubilee" (off the album of the same name) – "I'm gonna dance, I'm gonna sing, I'm gonna hear my voice in a Death Letter Jubillee". It's a loud, fun, bluesey boogie jam to close the album and the show.
The Delta Saints are a band with a big, eclectic sound that encompasses past, present, and future. They're sonically rich but not dense, rooted in the roots but not cliched, and darkly bluesy without being overwrought. When you combine that with some solid musicianship and the energy that only playing live can provide, Live From the AB delivers the goods.
Artist: The Delta Saints
Title: Live From the AB
Label: Independent Release
Release Date: May 18th, 2018
Running Time: 1:17:08
*Feature image David Bean