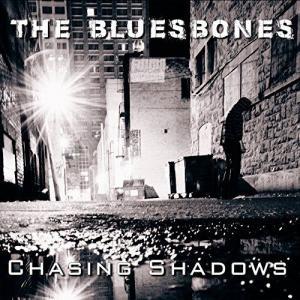 Blues acts from the US have been taking their live shows to Europe for decades. The British Invasion was in no small part, Europe's answer. Both sides saw dramatic record sale increases and garnered fans across the pond. We can now add The BluesBones to that list, with their latest release, Chasing Shadows.
The BluesBones hail from Belgium, a country so in love with blues music that they support over two dozen roots and blues festivals every year. The band tours all over Europe, and if the Roots Music Report charts are any indication, their American fan base is exploding. Chasing Shadows has spent 14 weeks on the charts, and shows no signs of dropping off.
Made up of five talented musicians, fronted by vocalist/songwriter Nico De Cock, The BluesBones bring blues-rock to the next level. A concept album, Chasing Shadows touches on traditional blues, psychedelic rock, latin flavors and more.
The current incarnation of the band, Stef Paglia (guitar), Geert Boeckx (bass), Edwin Risbourg (Hammond organ), and Koen Mertens (drums) are tighter that two coats of paint. De Cock's vocals are powerful and attention-grabbing, bringing to mind consummate frontman Paul Rodgers.
Chasing Shadows begins with "Find My Way Out," an all-out blues rocker reminiscent of early Deep Purple, but much cleaner. Risbourg's keyboard work is outstanding, managing to provide both backing and lead licks almost simultaneously. Mertens has some killer extended drum fills on this one as well.
"Going Down," gets more to the blues point. Clever lyrics paint a vivid portrait of revenge with De Cock's vocals and Paglia's guitar employing broad strokes. "Demon Blues" could just as easily come from New Orleans as Belgium. The voodoo-ish musical backdrop is perfect for the lyrical story. Switching gears sans clutch, "A Better Life," brings some shuffle to the mix.
Not knowing what comes next is one of the greatest experiences of listening to the album. Without compromising their blues-rock roots, The BluesBones are able to capture several genres and make each their own. "Love Me or Leave Me," is a prime example. It has a Latin taste, then again not. Think Classics IV meets Carlos Santana, and you'll start to understand.
"Sealed Souls," is a 7-minute opus bringing to mind the psychedelic era that brought us Donovan and Vanilla Fudge. Then "Romance for Rent," brings the beat back up, but at just the right tempo. "Psycho Mind," has a Texas blues-rock vibe that several acts these days have adopted. It never gets old.
"Betrayal," is a bluesy slow-drag. "Seesaw Blues," takes us on a shuffling European road trip, complete with a playground accident. "Seesaw Blues," is definitely a dance floor packer.
To wrap it all up, Chasing Shadows closes with the aptly named "The End." This is where The BluesBones bring the funk. Clocking in at over six minutes, the closer showcases the talents of Paglia and Risbourg, but it's the groovy bottom held down by Boeckx that binds it all together.
Lyrically, the album is filled with guns, vengeance, payback and satisfaction. Sonically, The BluesBones have succeeded in reminding us of some of our all-time favorite artists, without mimicry.
There is a familiarity to Chasing Shadows that put us right at home from the very first. But then we played it again, and again, and discovered new delights each time. It's no wonder that their original music has won the band the Belgian Blues Challenge in 2016 and Second Place at the European Blues Challenge last year. In short, you're gonna love this album!
Artist: The BluesBones
Title: Chasing Shadows
Label: NAKED
Release Date: March 23rd, 2018
Running Time: 51:38
*Feature image Tim Janssens