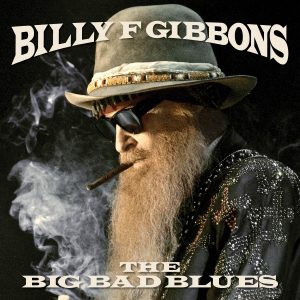 Billy F. Gibbons, guitarist and vocalist for that "Little Ol' Band from Texas" aka ZZ Top, is releasing his second solo album in September. The Big Bad Blues will hit the street on September 21st on Concord Records.
The album's 11 tracks are a mix of Gibbons' original tunes along with covers of classics including Muddy Waters' "Standing Around Crying" and "Rollin' and Tumblin'," along with Bo Diddley favorites as well with "Bring It To Jerome" and "Crackin' Up."
"As for the album content, check it out… Hey now!
"Something old, something new, something borrowed, something blue," he says. "It's no secret there are several favorites from the way-back starting with not one, but two, from the Bo Diddley catalog ['Bring It to Jerome' and 'Crackin' Up']. We dusted off an old Gretsch Duo-Jet guitar which put it squarely with that infamous Bo Diddley sound.  Once covered, we made way into another side—a much earlier number from Muddy Waters, 'Standing Around Crying.'  The ragged edges with the meanness of James' bad self on harp seemed to fit the bill to enter the lineup."
Favorites? Gibbons says, "'Missin' Yo' Kissin' is a gift from Miz Gibbons. She knows what girls want and laid it out cold.  And 'Second Line' is a definite throwback to many good days and nights down New Orleans way.
"Other tracks on The Big Bad Blues are easy pickin', sayin' it all. It's a street affair."
Gibbons has been a blues fan and devotee since childhood. "I suspect Jimmy Reed did me in early on. The inventiveness of that high and lonesome sound remains solid and stridently strong to this day. We could go on to mention the lineup of usual suspects, Howlin' Wolf, Muddy, all three Kings [B.B., Albert and Freddie]. The lengthy list of champions are forever carved in stone."
As a member of ZZ Top Gibbons was inducted into the Rock and Roll Hall of Fame in 2004. Their first few albums are the unofficial bible that Texas blues and rock players are raised up on.
John Burk, president of Concord Records had wanted to follow Gibbon's successful previous solo album Perfectamundo with an album of more blues-oriented material. "Billy has an incredibly deep knowledge of the great blues tradition and has carried that tradition forward in his music throughout his incredible career. Therefore, it seemed natural to do a project that centered on his musical roots, and the music that so inspired him from the very beginning."
For his part, Gibbons says, "We were delighted to follow suit: It's steeped in the tradition of 'BFG meets blues giants' with an adventurous expression to keep it fresh." BFG and Burk met in an underground parking garage of a favorite Hollywood bistro from the comforts of JB's top-down ride, playing some tracks, LOUD, with the music bouncing off the walls beneath a couple floors of raw concrete."
Joining him on his newest solo project are Mike 'The Drifter' Flanigin on keys, Joe Hardy bringing all his "fearless funkiness" on the bass, and keeping the beat alive on drums is Greg Morrow. Matt Sorum also works the drums and Austin Hanks brings his six-string electric elegance along for the ride as well.  Gibbons himself and James Harman share harmonica lines.
Tour dates will be announced soon!
Track list (all songs by Billy F Gibbons except where noted):
1) Missin' Yo' Kissin' (Gilly Stillwater)
2) My Baby She Rocks
3) Second Line
4) Standing Around Crying (Muddy Waters)
5) Let The Left Hand Know…
6) Bring It To Jerome (Jerome Green)
7) That's What She Said
8) Mo' Slower Blues
9) Hollywood 151
10) Rollin' and Tumblin' (Muddy Waters)
11) Crackin' Up (Bo Diddley)
*Feature image photo by Blain Clausen