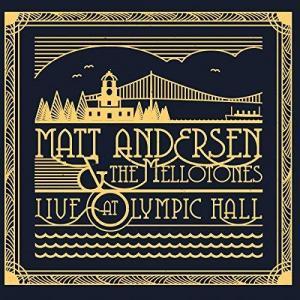 We've been noticing an upturn in the amount of great blues music coming from Canada of late. One of the artists from the Great White North  constantly making waves in the blues world  is Matt Andersen.
A soulful powerhouse vocalist, Andersen has built a formidable following the old fashioned way. He tours worldwide and lets the converted audiences and his devotees spread his reputation through word of mouth. His methods have unquestionably paid off. Andersen holds nine Maple Blues Awards, two European Blues Awards, and in 2010 won the solo/duo crown at the International Blues Challenge in Memphis (the first Canadian to do so).
Andersen notes that for artists who don't get a lot of radio play, "live music is vital." More than that, he says, "I think it's a basic connection, to be part of that energy going on. I just wish everyone could come to a live show. It's the best way to hear music for sure."
While touring in support of his 2014 release, Weightless, Andersen mashed up with the ten-piece force of nature that is the Mellotones. These purveyors of funk, soul, and R&B hail from Halifax, Nova Scotia and bring the party in a big way wherever they play.
With the stars aligned, Andersen, who is far more used to a one-guy, one-guitar format joined with the Mellotones at the renowned Olympic Hall in Halifax. The result was a night of high energy excitement that left the audience exhausted and Andersen "feeling like a rock star."
"I was fortunate enough to have The Mellotones on the road with me for a slew of shows," Andersen told us. "Some of the best time's I've had playing music. It was an absolute treat to share the stage with these guys, especially this night at Olympic Hall. I'm thrilled that we captured what was coming from those shows."
The night was captured, and became the album Live at Olympic Hall released via True North Records on May 25th, 2018. We're proud to bring you a piece of personal soul blues from that incredible night with "Coal Mining Blues."
Matt Andersen has some solo tour stops scheduled in the US on the following dates:
SEP 20 – Los Angeles, CA Hotel Café
SEP 21 – Buellton, CA Standing Sun Winery
SEP 22 – San Francisco, CA Hotel Utah
SEP 23 – Winters, CA The Palms Playhouse
SEP 25 – Portland, OR Mississippi Studios
SEP 26 – Seattle, WA Triple Door
SEP 29 – Bozeman, MT The Filling Station
OCT 1 –  Minneapolis, MN Dakota
OCT 2 –  Chicago, IL City Winery
OCT 3 –  Ann Arbor, MI The Ark
OCT 4 –  Cleveland, OH Music Box
A complete list of current tour stops can be found here.
*Feature image Meghan Tansey Whitton