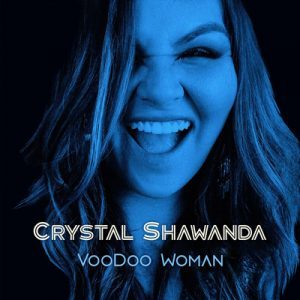 There are times we are truly taken by surprise, and this is one of those times. Pulling a CD mailer out of the box, it was the latest release from Crystal Shawanda. Our first thought was, "Oh yeah, this is that Canadian country singer." We were right, then again we were oh, so wrong. Voodoo Woman knocked us out of our blues lovin' socks from the second we pushed play.
It was a cathartic, holy shit, Jesus is back in Chicago moment. With a child's giggle and some pre-show tuning up, "Wang Dang Doodle/Smokestack Lightning" kicked out of our speakers. Greasy slide guitar, Maxwell Street harmonica and the brute force of Shawanda's vocals hit our ears like the Panama Limited sans brakes. Not only does Shawanda capture Koko Taylor's South Side growl, but after a brief slowdown for breath, morphs into a primal scream that would grab Janis Joplin by the short hairs.
Where did this come from, we were asking ourselves. It seems that her first few country music albums, as great as they are, were hiding a blues soul. "The whole time I was singing Patsy Cline on stage, I was singing Etta James at home," Shawanda admits. "The songs just fell out of me and it was like setting my voice free. I can't help but feel like I'm home, no longer holding back."
Growing up on the Wikwemikong reserve on an island in Ontario, Canada, her parents raised her on country music and taught her to sing and play guitar, but it was her oldest brother who introduced her to the blues. He would hang out in the basement cranking Muddy Waters, B.B. King and Etta James. Thankfully for us, she paid attention.
We're not sure why it took so long for Voodoo Woman to reach us. It was originally released on her own New Sun Records back in September 2017. Although already available on several platforms, Shawanda has signed with the True North label, who will be releasing it again on September 21st, this year.
Shawanda's husband, co-producer, and collaborator, Dewayne Strobel, provides all the guitar work on Voodoo Woman. Recorded live-off-the-floor in three Nashville studios, Crystal brings some heavy hitters to the record. Bass guitars are handled by Dave Roe and Michael Dearing, and the drummers are Louis Winfield and Darren James. Stephen Hanner blows harp, Dana Robbins is on sax, and Peter Keys handles the Hammond B3. Guitarist Tommy Stillwell (The Beat Daddys, Bobby Clark) makes a guest appearance on Big Mama Thornton's "Ball and Chain."
Speaking of "Ball and Chain," it comes up as the second track, opening with some sultry sax from Robbins. Shawanda's version is as erotic and seductive as anything you want. The title track appears in the third spot and is a rump shaker that Koko herself would be proud of.
Batting cleanup is another Thornton classic, "Hound Dog," with Shawanda's imagining of Etta James' "I'd Rather Go Blind," slowing things down to a wonderful, gravelly grind. She does dial down her vocals a bit on Dorothy Moore's "Misty Blue."
Voodoo Woman isn't all about cover songs. "Cry Out For More," is a saucy love song written by Shawanda and Strobel. A personal ode to one another, it hit us right in the feels. "Trouble" is a rocker about falling in love with bad boys and Crystal spits the lyrics with Tina Turner speed.
"I'll Always Love You," was previously released on Shawanda's album, The Whole World's Got the Blues. This version is a bit more personal though. "We didn't feel we had caught its heart before," Crystal said. "After our daughter Zhaawande was born, the song took on a different meaning. I started singing it differently; it was sweeter, more personal. And I recorded that song — and most of this album — with Zhaawande in my arms. So that's probably my favorite song on the album."
The album closes with "Blue Train/Smokestack Revisited." "Blue Train" is an original song showing the correlation between missing/murdered Indigenous women in the North and missing/murdered black women in the South. It's an Americana flavored, heavy drumming, foot stomping, nearly gospel tune that ends with Hanner making the train talk on his harmonica. It's one of those songs that gets in your head.
Voodoo Woman is the first blues album by Crystal Shawanda to be released in the United States. If you're a fan of those hard-hitting female blues stars of the past, you'll be a fan of hers too. In a word, this album is exceptional. We predict big things from this release. Award nominations, festival appearances, and turning a country fan base on to the blues are just some of them. Get Voodoo Woman today!
Artist: Crystal Shawanda
Title: Voodoo Woman
Label: New Sun Records/True North Records
Running Time: 41:44
*Feature image Hal Schrenk