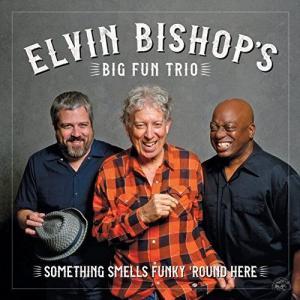 It's been nearly three years since Elvin Bishop put together the Big Fun Trio. Last year their eponymous debut album received a Grammy nomination. Now, the blues threesome is set to release Something Smells Funky 'Round Here via Alligator records.
Bishop couldn't have put together a better group if they'd been handed down from heaven on a silver platter. Elvin is Rock and Roll and Blues Hall of Fame inductee who first came to light with the Paul Butterfield Blues Band over 50 years ago. Bob Welsh, who plays piano and guitar brings his Louisiana charm to the mix. Bay area native Willy Jordan (cajón, vocals) keeps a solid beat, as well as providing his uber-soulful vocals.
Welsh (Rusty Zinn, Charlie Musselwhite, Billy Boy Arnold, James Cotton), and Jordan (John Lee Hooker, Joe Louis Walker and Angela Strehli) are obviously no strangers to the blues. When combined with Bishop's guitar work and witty lyrics, they become a 3-fold force of nature. "With a trio there's no place to hide," Bishop says.­ "You've got to be pourin' everything you got right out front. You need to be totally into it all the time. It's really cool to see how people react to the goin'-for-it feel of the music."
Go for it they do, right from the opening title track. It's a tongue-in-cheek State of the Union Address delivered with no holds barred. The lyrics are clever, but piercingly direct, and take aim at those in power. The grungy, rock-blues music adds the perfect backdrop. "Funky like a bad pot of chitlins."
Next up is their cover of Jackie Wilson's "(Your Love Keeps Lifting Me) Higher And Higher." Jordan's vocals shine like polished silver as he works in and out of falsetto, hitting notes that Wilson himself couldn't imagine. Willy brings those powerful pipes to play on a few other tracks including their re-imagining of Ann Peebles' "I Can't Stand the Rain."
"Right Now is the Hour," is a 21st Century re-composition of Bishop's 1978 hit from Hog Heaven. With only Bishop and Jordan on vocals, they carry the weight of that original chorus. The group goes full-on Chicago/New Orleans blues with "Another Mule." Whether it was Dave Bartholomew, Muddy Waters, Junior Wells, or Koko Taylor singing that iconic line, Bishop was there for all of them, and learned the lesson well.
The group all comes together vocally on the chorus of "That's the Way Willy Likes It," but Jordan takes the lead.There's no falsetto on this one. Just pure, unadulterated, soulful blues.
Although the masterful guitar and/or piano of Bob Welsh is on every track, it doesn't stand out any better than on "Bob's Boogie." It's no wonder that James Cotton once told him, "Piano player, you take me back to Otis Spann." He tickles and pounds the keys like a man possessed. If this one doesn't get you dancing, you better activate your Life-Alert.
"Stomp," is another instrumental that put the boogie in our shoes. Switching back and forth between some absolutely filthy slide to some grungy, string-bending, it's no wonder Bishop lets out with one loud, "YEAH" about two and a half minutes in.
Elvin gets his story-telling on with "Lookin' Good." Described as one of the three stages of life, after youth and middle age, "Lookin' Good," is a left-handed compliment that Bishop takes in stride and wears with pride. "Man, you outta be glad about them wrinkles, and you outta thank God for every one of them grey hairs, because think of all the dudes that didn't live long enough to get 'em." His wry lyrics are perfectly accompanied by Welsh's blues piano.
Our favorite track closes out the record. "My Soul," combines Chicago guitar playing with Cajun-flavored accordion (provided by Andre Thierry), and barrelhouse piano. Top it all off with Jordan's commanding, industrial strength vocals, and we're hearing something brand new, that sounds as familiar as mom's Sunday dinner.
Something Smells Funky 'Round Here was produced by Bishop and Steve Savage and recorded at Bishop's Hog Heaven Studio in Lagunitas, California. It has a street date of July 13th, and if it isn't immediately in your collection, there may be something wrong with your soul.
Artist: Elvin Bishop's Big Fun Trio
Title: Something Smells Funky 'Round Here
Label: Alligator Records
Release Date: July 13th, 2018
Running Time: 35:55
*Feature image Pat Johnson courtesy of Alligator Records