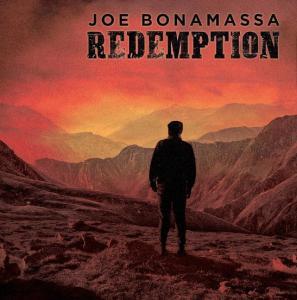 Joe Bonamassa is not one to rest on his accomplishments. The twice Grammy-nominated blues rocker is always pushing the envelope on what is considered blues and blues-inspired rock. His 13th solo studio album Redemption will be released on September 21st on his own J&R Adventures record label.
Redemption features 12 new songs including the title track which rock and roll icon Dion DiMucci lends a hand on. They are the result of an awaking and rebirth that Bonamassa is in the midst of. He explains, "I'm going through some other stuff in my life I didn't expect to be going through. It's a rising, it's contrition, it's acceptance, it's everything. It's painful, but knowing that there's a rising coming."
Also appearing on the album are some of Nashville's best and brightest including ubiquitous producer and drummer Tom Hambridge, James House, Gary Nicholson, and the aforementioned Dion DiMucci. Once again Bonamassa is working with producer Kevin Shirley who says, "From a Producer's perspective, this is far and away the most challenging and diverse album that Joe has ever made."
Contributing to the anticipation of this release and the album's quality are the exciting musicians that bring their talents to bear here. Drummer Anton Fig (David Letterman Band), bassist Michael Rhodes, keyboardist Reese Wynans, horn players Lee Thornburg and Paulie Cerra, harmony vocalist Gary Pinto, and background singers Mahalia Barnes, Jade McRae, Juanita Tippins. Producer Kevin Shirley introduced two additional guitar players, Kenny Greenberg and Doug Lancio.  Bonamassa says, "It was interesting, because having two extra guitar players involved, allowed me to play a certain way."
The album was recorded in several studios including The Cave Australia, Studio At The Palms, Las Vegas NV, Criteria Hit Factory, Miami FL, Addiction Sound Studios, Nashville TN and Blackbird Studios, also in Nashville.
The music starts with a tip of the hat to Led Zeppelin on "Evil Mama," and features aspects of rockabilly influenced boogie with "King Bee Shakedown," Black Country Communion echoes on "Molly-O," and a great hard driving highway song "Deep In The Blues Again." Bonamassa says that "Self-Inflicted Wounds" is his best songwriting yet. On "Pick Up The Pieces" he channels Tom Waits, and on "The Ghost of Macon Jones" he shares vocals with country singer Jamey Johnson, another Nashville artist.
On "Just Cos You Can Don't Mean You Should" Bonamassa recalls the intensity and heart that made  Gary Moore so memorable, and "I've Got Some Mind Over What Matters" sees him taking a look at his troubles. "Stronger Now In Broken Places" has this modern master take the music all the way down to the bone with just vocals and acoustic guitar, and then he closes the album with a winning blues number, "Love Is A Gamble."
There is a resounding theme of redemption and salvation on the album, but also very much a sense of strength and empowerment. "We all need to be redeemed at some point in our lives. It's this yearning to redeem yourself after just this tremendous loss and this tremendous feeling of pain," explains Bonamassa.
Bonamassa is at his ultimate creative peak with Redemption, which follows the recent release of his last live masterpiece, British Blues Explosion Live, that debuted at #1 on the Billboard Blues Chart and marked his 20th #1 album. Bonamassa's fire is unstoppable both in the studio and live on the road. Joe will also be performing live on Tour this Summer and Fall in North America as he debuts new tracks from Redemption as part of his live set.