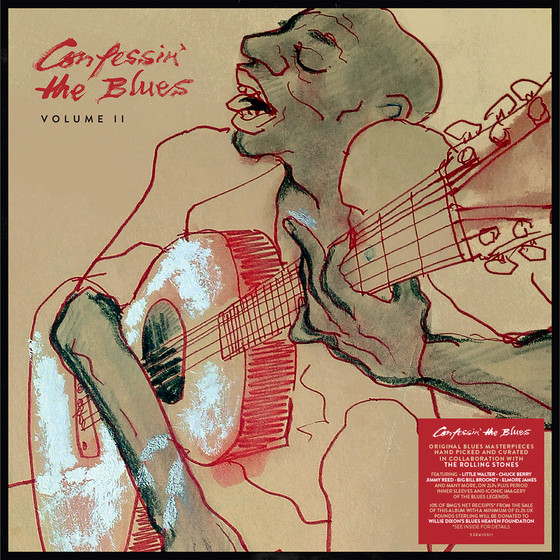 LONDON, U.K. – As well as being the biggest band in the world, The Rolling Stones are also the biggest champions of the blues, so who better to curate a compilation of the music that inspired them throughout their career?
Confessin' The Blues collects the greatest bluesmen ever and provides a perfect study of the genre. The tracks on the various formats of the release have been chosen by the Rolling Stones in collaboration with BMG and Universal. The sets are due out from BMG on November 9, 2018.
The Rolling Stones have long been supporters of the blues, from before the start of their career right through to their latest album, Blue & Lonesome, which featured their interpretations of the classics; many of those songs appear in their original versions here on Confessin' The Blues. Mick Jagger was an early fan of the genre: "The first Muddy Waters album that was really popular was Muddy Waters at Newport, which was the first album I ever bought."
As such big supporters of the blues, the band and BMG have decided that 10% of BMG's net receipts* from the sale of this album will be donated to Willie Dixon's Blues Heaven Foundation (registered as a 501C3 non-profit organization in the United States).
Jacqueline Dixon, President/CEO of The Blues Heaven Foundation, said: "We are extremely honoured, grateful and humbled that Willie Dixon's Blues Heaven Foundation has been included in such an astonishing project. It means so much that my father's dream of creating an organisation that promotes, protects and preserves the Blues for future generations is being recognised and supported by artists that have achieved so much."
Confessin' The Blues includes tracks by the biggest blues pioneers including Howlin' Wolf, John Lee Hooker, Elmore James, Muddy Waters, Chuck Berry, Big Bill Broonzy and Robert Johnson. All of these artists had an impact on the nascent Rolling Stones, whether influencing Keith's guitar licks or Mick's vocals and lyrics. As Stones guitarist Ronnie Wood says: "That's how Mick and Keith first got close as well, on the train coming back from college. They noticed each other's record collection and it was, "Hey, you've got Muddy Waters. You must be a good guy, let's form a band."
Confessin' The Blues will be available as a 2-CD set, 2×2 Vinyl LP sets and a 5×10" Vinyl book-pack (mimicking the original 78 rpm releases). All versions include liner notes by music journalist Colin Larkin and the book-pack contains removable art card prints by noted blues illustrator Christoph Mueller. The album cover artwork comes courtesy of Wood, who has added his own personal twist to the project by painting his interpretation of a bluesman.
Confessin' The Blues is a real musical education from those who know the genre best, the greatest living band on the planet, the Rolling Stones.
Track listing:
— Disc One —
1. Muddy Waters – Rollin' Stone
2. Howlin' Wolf – Little Red Rooster
3. John Lee Hooker – Boogie Chillen
4. Little Walter – Hate To See You Go
5. Chuck Berry – Little Queenie
6. Bo Diddley – You Can't Judge A Book By It's Cover
7. Eddie Taylor – Ride 'Em On Down
8. Slim Harpo – I'm A King Bee
9. Magic Sam – All Your Love
10. Elmore James – Dust My Broom
11. Little Walter – Just Your Fool
12. Muddy Waters – I Want To Be Loved
13. Big Bill Broonzy – Key To The Highway
14. Robert Johnson – Love In Vain Blues
15. Mississippi Fred McDowell – You Gotta Move
16. Jimmy Reed – Bright Lights, Big City
17. Big Maceo – Worried Life Blues
18. Little Johnny Taylor – Everybody Knows About My Good Thing (Part 1)
19. Howlin' Wolf – Commit A Crime
20. Otis Rush -I Can't Quit You Baby
21. Jay McShann & Walter Brown – Confessin' The Blues
— Disc Two —
1. Howlin' Wolf – Just Like I Treat You
2. Little Walter – I Got To Go
3. Chuck Berry – Carol
4. Bo Diddley – Mona
5. Muddy Waters – I Just Want To Make Love To You
6. Elmore James – Blues Before Sunrise
7. Eddie Taylor – Bad Boy
8. Boy Blue – Boogie Children
9. Jimmy Reed – Little Rain
10. Robert Johnson – Stop Breakin' Down Blues
11. Reverend Robert Wilkins – The Prodigal Son
12. Lightnin' Slim – Hoodoo Blues
13. Billy Boy Arnold – Don't Stay Out All Night
14. Bo Diddley – Craw Dad
15. Dale Hawkins – Suzie Q
16. Amos Milburn – Down The Road Apiece
17. Howlin' Wolf – Little Baby
18. Little Walter – Blue And Lonesome
19. B.B. King – Rock Me Baby
20. Buddy Guy – Damn Right I've Got The Blues
21. Muddy Waters – Mannish Boy
*The charitable donation is calculated on net receipts being amounts equal to monies actually received by BMG from the sale of this album after deductions of credits for returns and VAT (or similar sales tax)
View All Available Configurations
Pre-Order 5×10" Vinyl Bookpack with six art cards
*Album Cover Artwork by Ron Wood