Young and old. Black and white. Rhythm and blues. Pain and happiness. Smiles and tears. Sunshine and rain. The power of the blues is that it is rooted in spirituality and that spirituality stemmed from the most brutal of all conditions. Out of that brutality came a music that carried with it the essence of the human condition – duality, or as Matthew Modine put it in Full Metal Jacket, "that Jungian thing."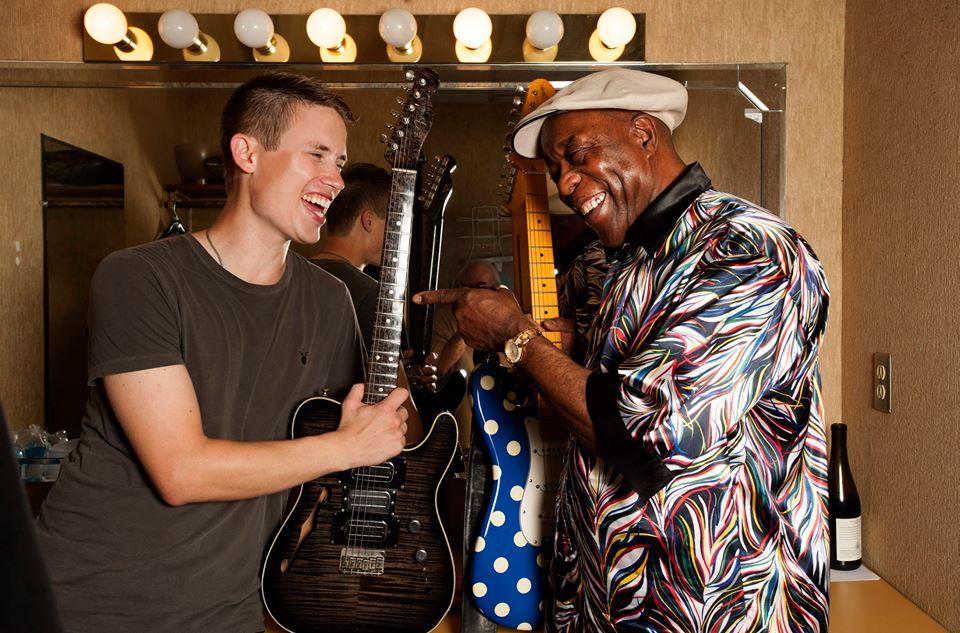 When done right, more than any other music, the blues express that very duality. On Saturday night at the Capitol Theatre in Port Chester, New York, Jonny Lang and Buddy Guy did it RIGHT. For those of you unfamiliar with "The Cap", The Capitol Theatre is one of the most iconic music venues in America. It's hosted The Grateful Dead, Janis Joplin, Pink Floyd, Traffic, Parliament Funkadelic, Phish, Bob Dylan, David Bowie, Willie Nelson, The Black Crowes, Elvis Costello, Steely Dan, Blondie, and a small British R&B group named The Rolling Stones.
The venue oozes history and character and is thus the ideal location for a show featuring one of the great young voices in blues alongside its elder statesman. A venue that has become synonymous with great rock shows hosting a night of the blues, the roots of rock, is a truly great example of the circle remaining unbroken.
Mr. Lang took the stage with a tight 5 piece unit that took off like a freight train for the opener "Don't Stop For Anything." With some seriously great lights work from "Greg" (props to him), the song is a nice, muddy, straight-ahead blues rocker that sets the tone with some guitar fireworks and solid rhythm work. From there, "Signs" is up next which is a great song. Jonny's tone was much clearer in the mix and the song features some Zepp-esque riffs that sounded fantastic in the Cap's amazing acoustics. Zane Carney provided some great slide guitar work to compliment the electricity that Jonny threw down. As the second song in the set, the placement is just right and builds energy on top of "Don't Stop."
Next up came "Quitters Never Win," a nice slow burner that gave everyone a chance to catch their breath for a few minutes, right up until the band revved it into 5th gear on the back half of the song. As Jonny switched guitars, it provided different tonality and flavor that really complimented what he was going for in each song. This was especially true as he strapped on a beautiful Stratocaster and scorched into a fun little boogie romp called "Rack 'Em Up." Featuring a great walking blues line (that also featured a brief solo from Jimmy Anton), "Rack 'Em Up" paid homage Memphis blues (and maybe a little Albert King).
"Snakes" came next, which is more rock than blues, and deserves to have its legs stretched a bit more than the band allowed. It's a great, high energy song that delivers some blistering guitar work, but it's begging for a longer treatment than it received. The band slowed it down with "Red Light" next, a heartfelt heart-breaker of a blues song. Tyrus Sass really shines on keys on this tune and provided a lot of soul with his organ work. A fun little jaunt into Stevie Wonder's "Living For the City" came next, followed by "Still Rainin'," highlighting some wonderful interplay between drummer Barry Alexander driving the beat and Jonny riding the wave's crest. An encore of "Bring Me Back Home" wrapped up a solid set of blues rock.
And then it was time for Buddy.
I'm sure everyone reading this site has seen Buddy Guy at least once, if not multiple times. As someone who falls into the latter category, I got exactly what I came for – musicianship of the highest caliber, a perfect example of someone who feeds off the audience (and vice versa), and an evening that illuminates the threads that bind us all.
Buddy hit the stage sounding as clear and bright as ever, ripping off riffs and sauntering across the stage with an energy that lit the crowd up. He, of course, went right into his grab back of tricks: using his teeth, using the buttons on his shirt, and swinging his hips with abandon. "Damn Right I Got The Blues" opened the show, because, damn RIGHT we got the blues too. And what sweet blues they are.
Crowd favorite "Hoochie Coochie Man" was up next, featuring Ric Jazz absolutely tearing The Cap apart with a solo that had us by the throat and refused to let go. He didn't stop and the crowd didn't want him too. Buddy had some fun with "She's Nineteen Years Old," as one could feel the crowd (which was mostly 50+) cringe; "I didn't write the fucking song!" was all it took to get everyone back smiling again.
"I Just Wanna Make Love To You," featured lows and highs. The lows: a woeful sing-along from a crowd for some reason not too confident in their abilities. The highs: Marty Sammon on the Hammond organ delivering a solo for the ages. It was dirty, funky, slinky, silky, smooth, and sexy. It was, in other words, wonderful. With some full-on "Foxy Lady" teases Buddy & the band segued into "Crazy About You."
"Five Long Years" again featured some blistering guitar work from Buddy, which he casually executes in the way that only a true guitar legend can. As he said, He Was Born To Play The Guitar and has the blues running through his veins. "Feels Like Rain" was next; a favorite of this writer and reminiscent of something that Buddy plays with real soul and depth. It's probably the heaviest song of the set insofar as sadness, but the band executes is with beauty. Plus, Buddy criticizing the crowd's off-key singing helped lighten the mood.
"Cognac" was next, where Buddy played with a towel, a drumstick, both at the same time, and then threw in a great little "Sunshine Of Your Love" tease. As a contemporary of, and influence on, guitar god gunslingers like Clapton and Hendrix, it's a treat to see him tease the crowd with not only bits of these songs, but guitar work on those teases that blow your hair back and melt your face. "Boom Boom" was next, which segued nicely into "Strange Brew" – Buddy was in a Clapton kind of mood, and when the crowd sang the chorus unprompted, he let us know that he "fucking liked that!". He finished the set off with "Someone Else Is Slippin In," again featuring an enthusiastic sing-along, and a final nod to his fellow gods, a solid tease of "Voodoo Chile."
An 82-year-old bluesman bringing it alongside a young blues phenom. A venerated rock venue in the New York suburbs featuring some old school blues by way of the South, Memphis, and Chicago. Blues that make you smile. Songs of heartbreak that had us laughing. Buddy himself wearing his black and white polka dot shirt to match his guitar. Saturday night's show was why we listen to music and go see it live. It connects the dots and completes the circle. The yin and the yang. The dark and the light. The rock and the roll. And most importantly, the rhythm and the blues.
All hail rock and roll. And all hail Buddy Guy.