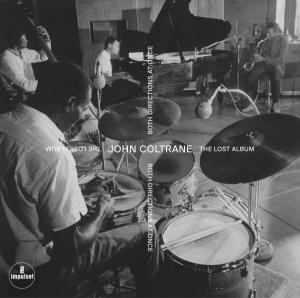 There is new music out from jazz legend John Coltrane. The album is titled Both Directions at Once: The Lost Album. It's release via Impulse! Records/Decca on June 29th, 2018 came as a result of a very fortunate find. It's also taking the jazz world by storm, giving Trane his first Top 20 Album spot on the UK's Official Album Chart.
Charting at #15, it's the highest chart position of Coltrane's career, and his biggest opening week sales. Recorded by Trane's Classic Quartet in 1963, it also scores as the oldest original recording to chart this year.
The story begins when John Coltrane's Classic Quartet recorded a session on March 6th, 1963 at Rudy Van Gelder Studios in New Jersey. The master tapes were destroyed, but not before Van Gelder had given copies to Coltrane. Those tapes were recently discovered in the home of Trane's first wife, Naima.
John's son, Ravi Coltrane, and studio executive Ken Druker compiled the recordings for the album. Made up of seven tracks, the album includes Trane's jazz standard, "Impressions," and two untitled originals known only as "11383" and "11386." There is also the free-flow tour-de-force "Slow Blues" which clocks in at 11:26.
The success of the album reflects the growing resurgence in the popularity of jazz. Jazz music has seen rising ticket sales, a younger, more diverse audience and a marked increase in popular media coverage. US saxophonist Kamasi Washington's latest album Heaven And Earth charted at number 13 last week. The furor surrounding the announcement of the new Coltrane album sees two instrumental jazz albums, released in consecutive weeks, on the UK's main pop chart.
John Coltrane was born September 23rd, 1926 in Hamlet, North Carolina. He got his first saxophone at the age of 17, and in a career that only lasted 22 years, became one of the most influential jazz artists of all time. After his death in 1967, Trane was awarded two Grammys® and a Pulitzer Prize, but had never had any of his 25 albums chart.
Martin Talbot of the Official Chart Company says, "It is quite remarkable that it has taken until 2018 for John Coltrane to register a chart hit album – and says everything about the British public's love for classic, timeless jazz."
*Feature image courtesy of Impulse! Records