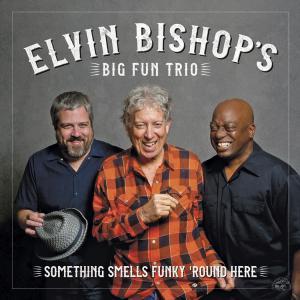 Elvin Bishop's Big Fun Trio has been around for almost three years now. Bishop formed the group with his friends Bob Welsh on piano and guitar, and Willy Jordan on cajón and vocals. After playing just a handful of live dates, the group's instantly crowd-pleasing music and undeniable chemistry took the blues world by storm.
The operative word in the group's name is fun. These guys are legitimately having a good time. One can hear it through their music, and feel it in their live performances.
The Big Fun Trio's newest offering, Something Smells Funky 'Round Here, is scheduled for release on July 13th via Alligator Records. The new album has some fresh, new originals, a couple serious covers, and a few reflections from Bishop's past discography.
"This album fell together easily," says Bishop. "Everything I visualized about the songs—from Bob's playing to Willy's singing, came true. Bob and Willy are great musicians."
"Another Mule," from Bishop's Ace in the Hole album is one of the revisits. The Big Fun Trio takes Dave Bartholomew's "Another Mule," mixes in some Muddy Waters' "Long Distance Call," spreads their distinct good-time vibe all over it, and serves it up as three minutes and forty four seconds of pure, blues bliss.
"That's one of those old tunes every blues player I know has done – and everyone does it kind of different," Bishop told us. "We played it just in the flow of the blues tradition, which works great with the trio. The guys put a heavy groove on it. Bob plays bass and guitar parts at the same time. Willie sings the perfect harmony."
We're proud to bring you the premiere of "Another Mule," from Something Smells Funky 'Round Here by Elvin Bishop's Big Fun Trio.
*Feature image Pat Johnson courtesy of Alligator Records