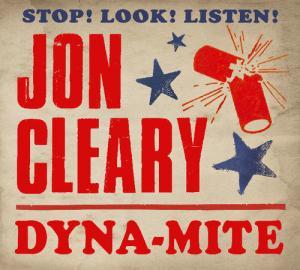 Jon Cleary is the total package. The Grammy® winning singer, songwriter, producer, and multi-instrumentalist may have been born and raised in England, but his soul belongs to New Orleans. Cleary plays nearly every instrument he lays hands on, but has a particular talent for gathering the best-of-the-best to complete projects like his latest, Dyna-Mite.
Released July 13th on his own FHQ Records label, Dyna-Mite is a medley of all things great about New Orleans music. Cleary brings blues, soul, R&B, and funk to the package creating what could be the Crescent City's soundtrack. Over three decades of immersion in New Orleans, with all its sights and sounds, has gifted Cleary with a goody bag of connections and pure talent. When you're considered a peer with the likes of Dr. John and the late, great Allen Toussaint, you're doing something right.
"Dig this latest from my Big and Greasy, high-class symphony swamp orchestra," says Cleary. "A killer congregation of horn howlers and snare snappers, bass bangers and guitar grinders. 21st-century gypsies pickin' up the gettin' down from the old cats in the saloons, studios and street parades of New Orleans."
He's not even kidding. Recorded in three different studios in New Orleans, in between gigs and tours, Cleary brings together an amalgamation of NOLA's best. Jon wrote all the songs, sings the lead vocals, and plays piano, wurlitzer, B3, guitar, mandolin, clavinet, bass, and drums on various tracks. The other killer keyboard player is Nigel Hall. The "horn howlers" include Charlie Halloran, and Craig Klein on trombone, Eric Bloom on trumpet, Ryan Zoidis, Roderick Paulin, and Damian Hand on tenor sax, with Lee Badau on baritone sax. Drummers Jamison Ross and AJ Hall keep the solid beat, while Calvin Turner and Cornell Williams lay down the funky bass lines (when Cleary and Hall aren't doing it). Guitarists include Andrew Block, Leo Nocentelli, and Shane Theriot, and the backing vocals are taken care of by the whole group plus Quiana Lynell.
Dyna-Mite kicks off with the title track, sounding like the group is tuning up for a second line. The funky New Orleans piano and horn sounds are just what the good doctor ordered. Cleary's vocals are soulful, and we predict this one will become a Mardi Gras standard. Other party songs include "Big Greasy," (which has an island flavor), the pure funkiness of "Hit. Quit. Git. Split," and the 70s R&B sounding "All Good Things," which is the album's closer.
It's not all fun and games though. "21st Century Gypsy Singing Lover Man," (which Cleary wrote with Taj Mahal), is as sexy as you want. The Big Easy meets Beale Street soul on "Best Ain't Good Enough." Cleary pours his heart into "I'm Not Mad," with Hall, Lynell, and Ross providing backing vocals that one moment take us to church, and the next to an Angola Prison chain gang.
Normally, we tip our collective hats to a tune that's upbeat and danceable. Not so here. Our favorite on Dyna-Mite is the sultry, 20s vibe of "Frenchman Street Blues." Fans of Treme will recognize the song, but Cleary slows it down even further on this record. Although an obvious New Orleans blues song, we can easily picture this one being played nearly 100 years ago in places like the Cotton Club. Truly a sonic throwback it took us to a place we thought no longer existed, but obviously does in Cleary's mind and piano.
Dyna-Mite is jazzy, bluesy, funky, fun, and out-freaking-standing. We highly recommend you get this one – yesterday. Cleary, himself, says it best, "Turn it up loud and press play to detonate…"
Artist: Jon Cleary
Title: Dyna-Mite
Label: FHQ Records
Release Date: July 13th, 2018
Running Time: 46:40
*Feature image Danielle Moir courtesy of Impact Artist Management