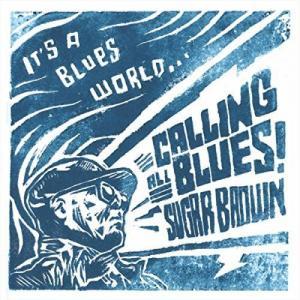 Toronto based singer/songwriter/producer and multi-instrumentalist Sugar Brown has released his third career album, It's a Blues World (Calling All Blues). The record consists of 13 brand new, original songs, and is like everything we've heard before. But we haven't heard it in years. Confused? Well, let us enlighten you.
Brown was on a mission to mine the genre of the blues. He dug deep into the crevices and crannies, and what he found there inspired this gem of a record. Remember these are all original tunes but are as familiar as our own shadow.
It's a Blues World kicks off with "Hummingbird." This jitter-bugging ditty would have been a hit at any USO show 70 years ago, yet it holds its own today. Imagine a young John Lee Hooker playing with a full band.
Recorded at Marquee Sound in Toronto, Brown explains why we're so conversant with his music. "We recorded on two tracks to quarter-inch tape. By using the technologies of older recording, I want to give the listener a different sonic listening experience than what we've come to blindly expect from the digital recording."
"Love Me Twice," jumps up a few decades, bringing us the sound of the early 60s. It's post-electric Dylan with a squealing, distorted guitar ending that gave us shivers. The Tom Waits-inspired "Lousy Dime," is a tutorial in minimalism with a bit of country flavor provided by Nichol Robertson on banjo, and a killer fiddle solo from Julia Narveson. Robertson also plays guitar throughout the album while Narveson provides some killer horns.
Other artists accompanying Brown on It's a Blues World include Michelle Josef (drums), Russ Boswell (bass), Julian Fauth (piano), and special guest, Rockin' Johnny Burgin.
We take a trip to Chicago's West Side on "Sure as the Stars." Some stellar guitar work over a 50s sock-hop beat makes for a sensational song. What does he know about Chicago one may ask. Enough that he played with Rockin' Johnny and The Headhunters, and Tail Dragger's band, in the 90s.
This is no newcomer
to the blues. Ken Kawashima (he received the Sugar Brown moniker from Tail Dragger) has an encyclopedic knowledge of the genre. He cut his teeth on Chicago blues while studying in the Windy City, and has developed big time skills on several instruments. He also has a voice that hearkens to those powerful Chicago masters that left sweat and blood on the floor of the clubs night after night.
Brown was inspired by country blues on songs like "Hard to Love," jump blues on "Dew on the Grass," boogie-woogie on "Lookin' For Two O'Clock," and even a bit of early rock and roll on "Those Things You Said."
The title track is as bluesy as it gets. A grimy slow-drag with very contemporary lyrics, it's sure to hit home with the blues purists of the world. The shuffling beat and distorted vocals of "Out of the Frying Pan," had our toes tapping. "What I Know" has some haunting sax and distant guitar, and when Brown's powerful vocals come in, all bets are off. Killer!
We have to call a toss-up for favorites song on this record. The Big Bill Broonzy inspired "Tide Blues," comes in neck-and-neck with the album's final track, "Brothers," which is another old-style acoustic bit of alright. Guest artist Rockin' Johnny Burgin adds some very sweet notes to the closer.
By day, Ken Kawashima is Associate Professor of East Asian Studies at the University of Toronto. By night, and on this record, he is Sugar Brown, a modern-day bluesman with a soul as old as the genre itself. Trust us when we say you want to add It's a Blues World to your collection. If you don't, you'll be missing out on blues history, updated and presented by a master, that you'll play again and again.
Artist: Sugar Brown
Title: It's a Blues World (Calling All Blues)

Label: Independent Release
Release Date: March 17th, 2018
Running Time: 47:32
*Feature image Mark Maryanovich